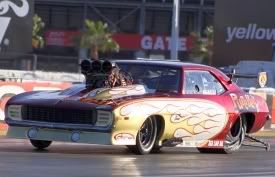 Goodguys Racing Team back on track this weekend in Vegas
(2-15-2012)
PLEASANTON, CA – With the thrill and excitement of a brand new drag racing season upon us, the Goodguys Racing Team led by Marc Meadors and the "Pure Hell2" '69 Camaro Pro Mod machine are locked, loaded and ready for a run at the West Coast Outlaw Pro Mod Association series title. Outfitted with a trick new DMPE Mark II carbon injector and a top secret hi-end torque converter, the team is confident they can take the flaming '69 Camaro into battle and eclipse last year's second place points finish in WCOPMA action.
This weekend, the team will venture south from their Pleasanton, California home base to the PSCA Ford Racing Record Breaker Nationals at the Strip at Las Vegas Motor Speedway to lock horns with the competition in the Pro Street division. Although not their primary racing circuit, it was at last fall's PSCA Street Car Supernationals at the Strip Meadors qualified #2 in a national field of the country's best racers running 5.92 @ 246mph. In fact, every run the Pure Hell2 '69 Camaro made at the Supernationals in November was a sub-six second effort. Meadors asserts "he's out to avenge the quarter final red light that took me out. I could have easily won that race" he grinned.
Joining his father on track this weekend will be 9 year old Grant Meadors, who makes his competition debut in the PSCA's Junior Dragster division. The third generation racer will be behind the butterfly of his new alcohol powered Mike Boss-built Junior Dragster.
"We're ready for the family weekend of competition," said the elder Meadors. "It's been a good winter back in the shop. We're excited about the new parts and pieces on the car and see no reason why we can't squeeze the 5.70 zone on a routine basis provided with optimum conditions. And little Grant is really stoked to be racing in his first-ever event. No matter the outcome, it will be good to be back on track after a long winter break."
The Goodguys Racing Team will post photos, qualifying and elimination updates and more on their Facebook page throughout the weekend. To follow along visit:
http://www.facebook.com/#!/pages/Goo...04760532902185
.
More information can also be obtained by visiting
www.goodguysracing.com
.