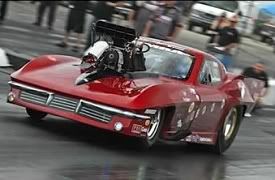 No major changes planned for PMRA Corvette Pro Modified of Derek Hawker
(2-17-2012)
CORBYVILLE, ON – "Right now the car is in 10 million pieces, but we'll have it back together for opening day."
Entering his third year of Pro Modified Racing Association competition, Derek Hawker said the Hawker Racing Corvette Pro Modified will not receive any major changes for the upcoming season.
"We are doing some upgrades to the supercharger," he noted. "We have to try and run with the Joneses, but other than that, it will be pretty much the same deal."
Hawker placed sixth in 2011 PMRA Championship Point Award Series, qualifying in the tough field at most events, highlighted with a final round appearance against Kenny Lang in the third race of the six-race season. His 6.316-second pass was close, but Lang, an IHRA Pro Modified champion from Manitoba, nipped Hawker with a 6.035-second run.
An Alan Johnson 526-cubic inch engine sits under the 1963 Sting Ray body in the Vanishing Points Race Car chassis. The engine employs a PSI Supercharger and an Atchison fuel system, with a Lenco three-speed transmitting the power. Hawker has raced since 1997, and three years ago stepped up into the Pro Modified arena from running a Top Sportsman car.
In 2010, his first year of PMRA racing, Hawker placed second in the Championship Point Award Series, and won the PMRA race at the Cayuga Dragway during the track's Canadian Nitro Nationals.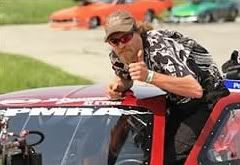 Scott Sager remains as crew chief for the Corvette, and other team members include Corrie Hawker, McKenzie Hawker, and Brittany Hawker. Former co-crew chief Tim Whalen has left the team to pursue racing on his own, but will always be welcome in the Hawker camp, and Mike McGrath will be helping the effort as his schedule allows.
While the team is presently sponsored by Hawker Construction and Empey Tire, Hawker added he is looking for more sponsorship, and will be running the full seven-race schedule for 2012.
The PMRA gets underway this year with the season-opening Victoria Day Weekend Challenge at the Cayuga Dragway of Toronto Motorsports Park May 18-20.
The Pro Modified Racing Association,
www.PMRA.ca
competes with its two companion series, the Quick 32 Sportsman Series,
www.Quick32.ca
and the Pro Bike & Sled Series,
www.PBSS.ca
offering a solid and full package of drag racing action.
For more information contact Bruce F. Mehlenbacher at
Bruce@PMRA.ca
.
Photos by Dave Erauw Photography - www.erauw-photo.com