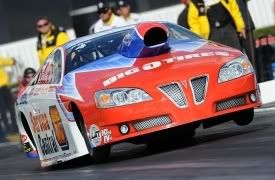 Shane Gray pleased to leave weekend in the desert in the past and focus on future
(2-19-2012)
CHANDLER, AZ – The 28th annual NHRA Arizona Nationals proved to be less than fulfilling for NHRA Pro Stock driver Shane Gray and the Gray Motorsports team, but they have plenty to look forward to with their sponsor's title event quickly approaching. After working to their fullest potential all weekend long in search of a positive outcome for the Big O Tires/Service Central Pontiac GXP, an early exit on raceday has them ready to focus on making gains before the Tire Kingdom NHRA Gatornationals in Gainesville, Fla., in just a couple of weeks.
The team thrashed late into the night on Friday following the first two rounds of qualifying to repair issues in the heart of their GXP, and although the first session on Saturday wasn't outstanding, they were relieved to make a good run in the final take before eliminations. Gray qualified 13th at the event – two positions higher than the last time he competed at Firebird Int'l Raceway – and drew young Vincent Nobile for the first round.
In their meeting, the Big O Tires/Service Central car was on a great run early but began drifting out of the groove and towards the centerline down-track. Gray cranked the steering wheel in an effort to guide his machine back into the groove but caught a bump in the road that caused the car to make a big move, and he had to lift. The final result was a 7.003 at 158.82 mph to Nobile's 6.571, 211.26.
"It was upsetting because once it started moving over to the right on me, I never could get it back," said Gray. "It got loose, and I had to shut it off. The good news is that we get to do this again here in another couple weeks in Gainesville, and we plan to have a better outcome.
"I'm not going to harp on it because there's no sense in that, but I know better than anybody that I could have done a better job. We'll go home and get back to work, and I look forward to what we can do at the next race. The Tire Kingdom Gatornationals is our title race and one of the biggest and best on the NHRA tour, and we would like to do well there for our Service Central Racing team."
After diagnosing the run, Car chief Craig Hankinson and crew chief Justin Elkes were pleased to point out the positive early incremental measurements of the first-round run and are optimistic.
"It was a really good run up to the 1/8th mile," said Elkes. "It showed that we could adapt to different conditions. We struggled a little bit with the power here, and that changed the way the car works, so that kind of hurt us in the middle of the weekend – but we were able to pull together and make a good run. We just got bit by that left lane."
The Service Central Racing teams will next follow the Full Throttle Series tour to Gainesville Raceway for the Tire Kingdom NHRA