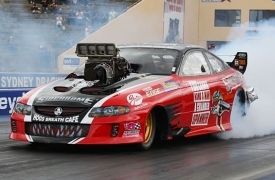 Team Bray on form at ANDRA Pro Series in Sydney
(3-28-2012)
KALLANGUR, QLD – Looking to improve on their WA round, 3 weeks earlier, Team Bray has again proven a powerful force in Australian Top Doorslammer ranks with young Ben blasting to the runner-up position in the ANDRA Pro Series held at Sydney Dragway.
Team Bray Racing and the whole Top Doorslammer bracket had plenty to cheer about after the history making second qualifying session. This is the fastest ever 8 car field with Ben in 5th with 5.934 / 245.09 and Victor in 8th with 6.053 / 239.82.
Qualifying just got better and better as the night went on. When Victor Bray lined up for his final run at qualifying he knew that he would need to use every bit of experience to get into this field. Unfortunately Victors drifted towards the centre line and he was unable to improve on his 6.05 run from Qualifying session 2. Second generation dragracer 28 year old Ben Bray did not have any such problems with his Sidchrome Monaro driving as straight as strings to move him up into 3rd with a 5.907 / 246.44 and maintain family pride in another chapter of Top Doorslammer history.
At the end of the 3rd and final session history had again been made at the Sydney dragway, with the first all five second Top Doorslammer field in the history of ANDRA Pro Series.
In the first round of eliminations on Sunday Ben defeated Mark Belleri to set up a semi final duel against Peter Kapiris who had eliminated Sean Mifsud in round one. In the semi-final Ben received a ticket to the final thanks to Peter Kapris being unable to hold his car on the start line and rolling the beams. John Zappia also had a very easy semi-final win courtesy of a very out of shape Robin Judd to set up a Bray V Zappia final.
Ben knew Zappia, who has been running consistent '5.80s' would be hard to beat. This turned out to be the case, although Ben cut a better light than Zap and recorded a 5.913 / 246.89 it was just not quick enough to beat the West Australian who crossed the finish line 1st by .005 of a second to record 5.836 / 248.02
Victor Bray Sidchrome 1957 Chevy:
"I could not be happier with how strong the Top Doorslammer bracket is and to able to get 1 car into the 1st ever all 5 second 8 car field, is great.
Only down side is you know workshop bragging rights in Team Bray are a big thing and now that Ben is in front of me in the championship it is going to be a long 6 weeks until we are back here again for the Nitro Champs".
Ben Bray Sidchrome Monaro CV8Z:
"Qualifying was tough, with 16cars and being the quickest Top Doorslammer field ever I was glad to be in it. I am also glad I was not Gary Phillips or John Cannuli both of them ran a five but did not make the field, up until this week end if you ran a 5 in qualifying you could be assured of a spot on race day.
Except for the 1st qualifier the car ran well all week-end. I would like to congratulate Zap on winning the event, but I am starting to get a bit worried as he is getting closer to Dad's 6 times National Championship record, this weekend gives Zap a 60 plus points lead over 2nd place Peter Kapiris and if he keeps going the way he is I think it will be championship No. 5 for him. Anyway I'm back here again next weekend for the Jamboree with my Datsun Coupe."
Photo by Grant Stephens - cacklingpipes.com