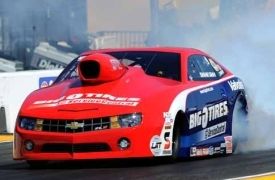 Big O Tires Service Central Camaro driver Shane Gray optimistic as Western Swing winds down in Seattle
(8-1-2012)
KENT, WA – Shane Gray and his Gray Motorsports team are entering the final event of the fast-paced Western Swing with elevated hope and growing determination fueled by the positive direction of their engine program and the useful data recently gathered in their Big O Tires/Service Central Chevy Camaro.
Gray, of Denver, N.C., will be seeking further advancement and hoping to pick up more points this weekend at the 25th annual O'Reilly Auto Parts NHRA Northwest Nationals presented by Super Start Batteries, the last of three consecutive races before the Full Throttle Series tour takes a well-deserved weekend off.
"It's slow progress, but we know we're headed in the right direction," said Gray. "We started these three races with a plan to fine tune a few things, and we've been working on that. At times, it's tough to stay the course because you want to see things happen quickly, but that's just not realistic. This is a tough, tough class. You've got to be patient and persistent.
"I'm pretty proud of this team and what we've accomplished. We'd sure like to finish off this Western Swing with a little reward for all of our hard work. We're hoping we can use what we've learned here these past couple of weeks and qualify well enough that we have a shot at going some rounds on raceday."
Gray is currently holding down the No. 7 spot in the Full Throttle Series Pro Stock standings; last season at this point he was 9th. The Countdown to the Championship playoffs will begin in just three events, at the O'Reilly Auto Parts NHRA Nationals in Charlotte.
"Sure, we think about the points and the Countdown," said Gray. "But right now, our main focus is on getting to Seattle and taking advantage of that good air out there. It could be a really great weekend for our Big O Tires/Service Central Chevy Camaro."
www.graymotorsports.com
www.servicecentralauto.com