Johanns takes the win at Mission
(6-29-2010)
MISSION, BC – The West Coast Pro Mod Association got a late start to the 2010 season but they are in full race mode at the end of June. Last week at Mission Raceway near Vancouver, BC they got their season off to a fast start with 12 cars trying for the eight car field.
They were the feature class in Mission Raceway's annual "Door-car Shootout" that also included the Pro Street class and Canada West Doorslammers. Friday testing proved to be very eye opening for a couple teams, with Joe Delehay laying down the gauntlet early with an extremely stout ½ track pass that showed his car could run a five if the car could hook for the entire 1320. He went 3.95@189 MPH in the Friday test. Rick Distfano made a number of laps and was getting close to making the 36 inch Goodyear's stick.
Wayne Hofer had bad luck on Friday, as he wounded the valve train and did not have enough spare parts to get the car back together for qualifying Saturday.
Saturday qualifying: Delehay in his first run made HIS statement that he was ready to play with a track and WCPMA record 6.011/238. Tommy Johanns got in a great run in the third qualifier equalling his career best with a 6.19/225. Dan Vogt was #3 with a 6.40 and Keith Korecki found a few more hp over the winter and ran his best run, a 6.49. Part time racer Duane Grosart went his quickest ever as well, a great 6.57. Rookie Yvonne Lucas made her debut and went a solid 6.61. Ricky "D" rounded out the final qualifying as he is still sorting out the new car. He went a slowing 6.92.
Tom Meheden had mechanical issues in qualifying and could not make the necessary repairs either and he had to head home early. Perry Krinitt was dealing with starting line issues throughout qualifying but he made a gear change Saturday night and was lucky enough to get in as an alternate for Duane Grosart who wounded his bullet in the final qualifier.
Final Qualifying Order:
1. Joe Delehay, Calgary AB '68 Camaro 6.011/238
2. Tommy Johanns, Franktown CO '53 Corvette 6.19/226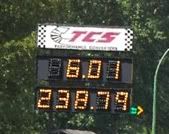 3. Dan Vogt, Regina Sask '63 Corvette6.40/215
4. Keith Korecki, Kelowna BC '69 Mustang 6.49/213
5. Duane Grosart, Chilliwack BC '55 Chevy 6.57/214
6. Yvonne Lucas, Maple Valley WA '68 Camaro 6.61/214
8. Perry Thyr, Drayton Valley AB '02 Camaro 6.91/188
9. Rick Distefano, Calgary AB '70.5 Camaro 6.92/183
DNQ
Tom Meheden, Calgary AB Chevy Beretta
Perry Krinitt, Montana '51 Chevy
Wade Sjostrom, Edmonton AB '57 Chevy
Wayne Hofer, Lethbridge AB '63 Corvette
In eliminations everyone was expecting Delehay to rip off the first "5", as cooler weather brought down the corrected air to less than 100 feet. Both he and Distefano had their cars set up to run hard in the great air and both struggled at 200 feet. Delehay shook really hard as but pedaled his Camaro to get the win light, while Distefano lifted and coasted through. Krinitt took on Korecki, and that one was close. Krinitt got the right gears in the car and he ran his career best, a 6.57 but it was just short of Korecki's 6.55. Yvonne Lucas ran Dan Vogt and she got her first ever win light in the WCPMA series. She ran a career best 6.46 to a quicker 6.44. In the final pairing, Johanns was supposed to race Perry Thyr, but Thyr was not able to make repairs after his qualifying wounds. He got a single but Wade Sjostrom who did not get in a qualifying shot with his new '57 Chevy, ran beside Johanns. Tommy went a career best 6.10 to get lane choice in the semis against Lucas. Sjostrom went 6.89 in his debut.
Semi finals: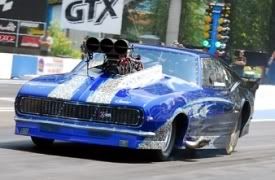 Johanns continued to impress in the semis, with a 6.12 to dispatch Lucas, who fell off from her earlier '46. She ran an off pace 6.78. (Crew Chief Mike Lucas determined they had Nitrous issues that kept the activation off until down track). Delehay got the win against Korecki in the other semi. Korecki was thrashing on his car as they had a few head and piston issues. They tried hard but could not get the repairs done in time, giving Johanns the single. He went 6.17 to get the easy win.
Final round:
Johanns was in his second final round in a row at Mission Race3way and wanted back to back wins. He had lane choice, but Delehay should have been the favourite based on qualifying runs in the 6.0's.
Unfortunately, Delehay found a few issues on the last run (dropped a valve), so he had to put in the spare bullet. The team got the spare in but when they were dialling it in, they found the issues with the fuel system (that likely caused the issues in the semis), and could not get the issues resolved in time. They had to give up their chance in the final, giving Johanns a single and back to back wins at Mission Raceway.
Story and photos courtesy of SpeedZone Magazine