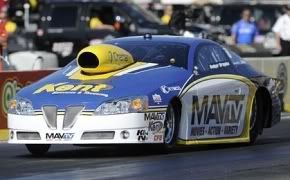 Phoenix race holds great memories for MAVTV racer Brogdon
(2-15-2012)
CHANDLER, AZ – There's an old saying in racing that it's not where you start, it's where you finish. But MAVTV Pro Stock driver Rodger Brogdon knows where you start is important, too.
Brogdon qualified No. 7 for the season-opening race in Pomona, Calif., but he hopes to improve on that in this weekend's 28th annual NHRA Arizona Nationals at Firebird International Raceway.
"Well, we're going to have to qualify better," Brogdon said. "We left a couple hundredths on the table last week. I'm not saying we can go as fast as (Pomona winner) Greg Anderson and those guys, but when they go 6.53, I should be able to go at least .55, maybe .54. We're going to need a better effort in qualifying."
Qualifying higher up the ladder also means facing lower-qualified cars in the opening rounds of eliminations. Brogdon made solid qualifying passes in Pomona but wanted a little more in the final time trial session, which was rained-out.
"Not having that last session hurt us because we were sneaking up on a few things," Brogdon said. "It hurt everybody, of course, but I know it cost us a little bit. We're going to try to qualify better and get a better spot in the ladder."
Brogdon and the MAVTV team now races at the site of Brogdon's first national-event victory in Competition Eliminator, scored in 2005.
"I like Firebird International Raceway," Brogdon said. "It's been good to me."
That race was one of the highlight's of Brogdon's NHRA career, as he qualified No. 1 and won the race, beating NHRA legend David Rampy in the final round.
"It was a heck of a weekend," Brogdon said. "We had a lot of trouble and hurt a motor, so we had to change a lot of stuff. But we worked hard and out-ran David Rampy, the best Sportsman racer in history. We out-ran him in the finals, so that made for a pretty rewarding weekend, because he's as tough as they get. I'm glad he doesn't race Pro Stock.
"Maybe we can recreate some of that magic this weekend. That would be something."
The event begins Friday with Pro Stock qualifying sessions scheduled for 1:30 and 4 p.m. Qualifying continues at 11:30 a.m. and 2 p.m. Saturday with eliminations slated for an 11 a.m. start on Sunday. ESPN2 will carry all of the action.