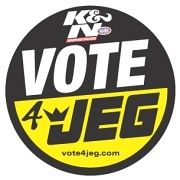 Vote4Jeg.com will allow fans to put Jeg Coughlin into K&N Horsepower Challenge
(4-10-2012)
DELAWARE, OH – Taking a year off from drag racing has left four-time Pro Stock champion Jeg Coughlin Jr. out of the 2012 K&N Horsepower Challenge, but fans can still vote the 68-time national event winner into the special event via a special online poll.
Pro Stock drivers began compiling points during qualifying for each national event after last year's Norwalk race, and since the JEGS.com driver didn't compete professionally in 2011 he doesn't have enough points to be one of the top seven drivers who will be eligible.
But the K&N Horsepower Challenge has reserved the eighth and final spot for the winner of an online fan vote, and Coughlin's supporters can go to
www.vote4jeg.com
and cast their ballot.
The K&N Horsepower Challenge will be held slightly more than an hour north of Coughlin's Delaware, Ohio, home during the NHRA national event contested from July 6-8, and it's race he clearly wants to contest.
The big dollar event is a race-within-a-race, showcasing the top drivers in Pro Stock, with the winner receiving $50,000, the runner-up $10,000, the two semifinalists $3,000 each, and the four first-round finishers $2,500 apiece.
Coughlin is one of the most successful Pro Stock drivers in NHRA history, winning world championships in 2007-08, 2002 and 2000. He's also a three-time winner of the Challenge, earning the title in 2009, 2000 and 1999.
And he may not be the only one to win entry into the race. There will be a fan sweepstakes to win one of eight trips to the K&N Horsepower Challenge, and one of those lucky fans will leave Norwalk as the owner of a 2012 K&N Horsepower Challenge Special Edition Toyota Tundra. Fans can enter the K&N Horsepower Challenge Sweepstakes at
www.knfilters.com/register/KN_HP_CS.aspx
.
The eight finalists will receive airfare, hotel accommodations and ground transportation to witness the K&N Horsepower Challenge in person. Finalists will be randomly paired with one of the eight Pro Stock drivers competing in the event, and the fan with the winner of the Challenge will win the K&N Horsepower Challenge Edition Toyota Tundra.
The vehicle is a unique 2012 V-8 Double Cab specifically created by Toyota Racing Development and K&N Filters for this event with modifications to include a supercharger, custom wheels and exhaust, as well as other touches inside and out. Interested parties can log on to
www.knfilters.com
for more details.