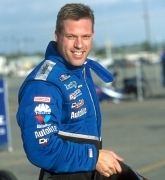 Darrell Russell Memorial Golf Tournament looking for players, sponsors
(4-16-2012)
BAYTOWN, TX – The Darrell Russell Memorial Golf Tournament returns this year to Evergreen Point Golf Club before the 25th annual O'Reilly Auto Parts NHRA Spring Nationals presented by Super Start Batteries at Royal Purple Raceway.
Fans are encouraged to sign-up now to play alongside numerous professional and sportsman racers who were friends with Russell. All proceeds from the event will be donated in Russell's name to charities within the NHRA family to benefit racers and members in need.
The tournament will be held Thursday, April 26, with racers who want to compete given a special chance to go through technical inspection on Wednesday, April 25. NHRA and Royal Purple Raceway require racers who want to go through early tech to be pre-entered into the tournament as a player by April 20.
The Darrell Russell Memorial Golf Tournament is presented by CAPCO Pipeline Contractors and Torrence Racing and is intended to celebrate the passion, camaraderie and competitive spirit of the late driver. Russell was NHRA's rookie of the year in 2001 and was the third driver in NHRA history to win in his professional debut when he went to victory lane in Pomona, Calif., in 2001.
Russell, who was from the Houston suburb of Hockley, Texas, won six national events before his career was tragically cut short in 2004.
Check-in for the tournament is slated for 11 a.m. local time, with a 12:30 p.m. shotgun start. The event is a four-player scramble-type format. An awards dinner will take place after play is completed.
Sponsorships of varying types are still available. Some of the sponsor and player packages are:
Top Fuel: One four-player team and signs on two holes for $400
Funny Car: Two player entries and one hole sign for $250
Pro Stock: Signs on two holes, no player entry for $200
Sportsman: One player entry and one hole sign for $150
Associate: One hole sign, no golf entry for $100
Member: One player entry for $85
Long Drive Award (front and back nine) for $125 each
Longest Putt Award (front and back nine) for $125 each
Closest to Pin Award (front and back nine) for $125 each
Closest to Pin 2nd Shot Award (front and back nine) for $125 each
Club House & Pavilion Signs: $100 (2)
Evergreen Point Golf Club is located 10 minutes from Royal Purple Raceway at 1530 Evergreen Road in Baytown.
Contact tournament director Craig Anderson (214-707-4361), Tammy Lauria (972-937-4336) or Gregg Odom (214-707-3470 or
raclown@aol.com
) for additional information regarding sponsorship and player entry.