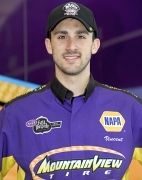 Nobile reaches final round in Concord
(4-17-2012)
CONCORD, NC – Mountain View Racing NHRA Pro Stock driver Vincent Nobile continued his recent string of impressive performances when he reached the final round of the NHRA 4-Wide Nationals at zMax Dragway in Concord, N.C.
Adapting quickly to the unique format of the event, which features four contestants in a side-by-side-by side-by-side race, Nobile earned the best starting spot of his career when he drove to a 6.512 for the No. 3 position. On race day, he advanced through his first two heats before ultimately posting a third-place finish when his Hemi-powered Dodge shook the tires off the starting line. Greg Anderson went on to win the event with Erica Enders posting a runner-up finish. Low qualifier Jason Line joined Nobile as a semifinalist after red-lighting at the start.
"I have one away in the final round and it was pretty much all my fault," said Nobile. "The car shook the tires because I moved my foot on the clutch pedal before the car left and it disrupted the rear tires. As soon as I left the starting line, they started to shake and from that point on, there was nothing I could do. It's too bad because I could have beat Greg and Erica. I only needed to run a 6.56 to beat both of them and we were more than capable of doing that. They say there are a million ways to lose in one of these cars and we just discovered another one of them this weekend. Lesson learned. I won't be doing that again."
Nobile was hoping to win the event for team owner and crew chief Nick Mitsos, his wife, Irene, after they elected to skip the 4-Wide event in order to join their family for a Greek Easter celebration at the team's home base in California. In Mitsos' absence, the Mountain View team, including Nobile's father, John, and crew members Kenny and Matt Sevier and Ryan Priddy, where joined by former Mountain View driver Dave Beckley.
"We certainly missed Nick and Irene this weekend," said Nobile. "I wanted nothing more than to be able to call them Sunday night and tell them that we'd won another Wally [NHRA trophy]. This wasn't a bad result at all, but it wasn't the result we were looking for."
Despite the loss, Nobile enjoyed a solid showing in the Full Throttle Pro Stock points standings and he is now in fifth place, just six points behind teammate and fellow Dodge drover Allen Johnson. The next stop for the Mountain View team will be the O'Reilly Auto Parts Spring Nationals in the Houston suburb of Baytown, Texas, the site of their first career victory in 2011.
"I am very much looking forward to going back to Houston," said Nobile. "I have a lot of great memories from last year and we're hoping to make a few more great memories this time. Our car is running as well as it ever has and despite the mistake I made this weekend, I feel confident in my driving. We're just looking for a place to put it all together and I'm hoping that Houston is it."