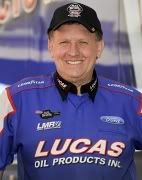 Morgan misses chance at winner's circle in Bristol
(6-17-2012)
BRISTOL, TN – Pro Stock veteran Larry Morgan did not get the result he was looking for on Father's Day.
The driver of the Lucas Oil Ford Mustang saw his day end with a first-round loss to past series champion Mike Edwards in the 12th annual Ford NHRA Thunder Valley Nationals on Sunday at Bristol Dragway.
"It was just a mess," Morgan said. "We kept putting more and more in it, but it just got us. Something wasn't binding in the clutch. I've got another clutch. We should have put it in yesterday, but I was just kind of scared. But, that first round race against Mike was the best we ran all weekend, so we are pretty happy with that. Still, we should have run a little better and maybe we could have won."
Morgan, who was seeded 15th on the ladder, laid down a 6.701-second run at 205.38 mph, which was just a few ticks slower than Edwards' 6.664-second pass at 206.57 mph.
Despite the result, Morgan believes he knows what the problem was with his race car, and more importantly what it is going to take to get it fixed.
"We believe we have solved all the mysteries quite a bit," Morgan said. "There was a whole lot of trouble."
So while most drivers will be enjoying the off week, Morgan and his team will be testing somewhere as they look to get back to winning rounds on race day.
"We have an off week, so we are going to attack it now," Morgan said. "We have no choice. We are going to go test somewhere."
After testing, the team will head to Chicago for the O'Reilly Auto Parts Route 66 NHRA Nationals at Route 66 Raceway, June 28-July 1, in Joliet, Ill.
"We run better when we are on sea-level tracks, but this is kind of an altitude deal," Morgan said. "For the most part, we are lucky we got in. I could have been like the other guys that had trouble. A lot of guys had trouble here because of the track. I am just happy we got this Lucas Oil car one round in there. I am looking forward to the next race. I think we will be alright."