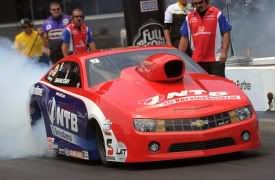 Shane Gray drives NTB Service Central Camaro to semifinals in Norwalk
(7-8-2012)
NORWALK, OH – For Pro Stock driver Shane Gray and the NTB/Service Central team, raceday at the 6th annual Summit Racing Equipment NHRA Nationals in Norwalk was a pleasant departure from the two days of qualifying that preceded it. Ultimately, a semifinals performance at Summit Motorsports Park lifted the second generation driver up a position to 8th in the Full Throttle Series standings.
The Gray Motorsports team put forth tremendous effort to qualify their Chevy Camaro during one of the hottest bundle of qualifying rounds the Full Throttle Series tour has seen all season long, and it came down to the wire – with Gray jumping into the field only on the final pass.
A good night's rest and a regrouping of spirits had the team eagerly anticipating a first-round match with multi-time world champion Greg Anderson, both a rival and a friend. Gray was on his game and clocked a .021 reaction to Anderson's slightly delayed .061 and won the round on a holeshot. Anderson's 6.640 at 208.01 was the quickest and fastest run of the weekend to that point, but Gray's 6.664, 205.69 got the nod by .0168-second (approximately five feet).
Gray was first to launch in his quarterfinals match with another former world champion, Mike Edwards, but this time he sealed the deal by also making the journey down the quarter-mile at a quicker pace, 6.687 at 206.51 to 6.709, 207.82.
In the semifinals, the Denver, N.C., resident arrived at the starting line ready to take on Anderson's Summit Racing teammate, defending Pro Stock series champion Jason Line. The pair were very close in reaction time (Line had a .007-second advantage), but the competition took a highly unusual turn as Gray lost traction and Line quickly followed suit. Both were able to get it back into gear and race towards the finish line, but Line got there first for a bizarre 8.211 to 9.142 victory.
"Boy, that was a strange one," said Gray. "I would rather have flipped a coin to figure out who was going to the final, because that really wasn't much of a race. But it was a good weekend overall. This NTB/Service Central team built up some confidence and maybe a teeny bit of momentum. This was a better day than we've had in quite a while, and we've got nothing to complain about.
"The Countdown to the Championship is getting closer, and we needed to add some points to our pot. We were able to do that and move up, and now we will go home and concentrate on getting better before we go to Denver."