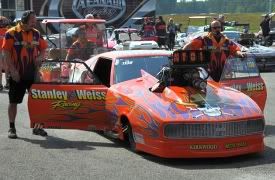 ADRL Pro Extreme Virginia with Stanley & Weiss Racing
(7-8-2012)
HAGERSTOWN, MD – It was really that hot in Richmond! The temperature and the ADRL racing as well. Our first qualifier on Friday netted us a lazy 3.91 in 99F heat. Someone, not mentioning any names definitely underestimated the track! But the Appalachia on Steroids Camaro went right down the middle of the race track and absolutely, positively NOTHING fell off of it!
We didn't have anything for the 3.60's and 3.70's being put up but we were more than pleased with the car. This left us in the 9th spot which was fine by us for the first qualifier.
The second and third qualifiers were cancelled because of some severe summer thunderstorms all around the area. But luckily all the storms went all around us and all we saw some rain and a bit of wind.
Saturday dawned a beautiful day and with the schedule moved up to a 900am start to give everyone two more qualifiers it was time to GIT-R-DONE! The severe drop in temperature to a cool 83F gave hope to no one falling over due to heat stroke during the first qualifier.
On this pass the bright orange Camaro produced a great for us, 3.804 and again went right down the middle of the race track. For the third qualifier the temperature had risen to 93F again but the car performed flawlessly again and gave us another 3.80, this time with a .003 on the end. And this made us the second quickest car of the round as we were racing the race track and not trying to rotate the earth. This left us twelfth in the field for a first round matchup with the Tim Tindle juggernaut out of the Taylor Racing camp.
At the drop of tree, Tim was a man of his word, he left John go first! We had talked before the round began and I asked Tim not to make my kid look too bad and he said he would give him a couple of numbers! ADRL racing is so Old School, almost always fun right up till the the race is on!
BUT Tim wasn't ready for John to put a .004 on him at hit and he was just able to pass the very capable John Stanley in the traps for a victory of a half of a car length. It was a GREAT drag race and one of the type that we shall be winning again real soon.
We have our consistent race car back under us that went right down the race track FOUR times in a row, one of the few that did that all weekend! We ran a 3.911, a 3.804, a 3.803 and a 3.802! This was great for us but we are a tenth off the pace to be competitive so now it is on to Michigan to do our utmost to step our game up another notch.