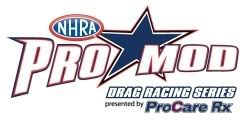 NHRA Technical Department announces parity adjustment for NHRA Pro Mod Drag Racing Series presented by ProCare Rx
(7-18-2012)
GLENDORA, CA – In the continuing effort to maintain parity in the NHRA Pro Mod Drag Racing Series presented by ProCare Rx, the NHRA Technical Department is reducing the minimum weight for supercharged entries from 2,650 pounds to 2,600.
The minimum weight for nitrous assisted entries will remain at 2,425 pounds while the minimum weight for turbocharged entries will remain at 2,700 pounds.
These rule changes will go into effect July 23, 2012. Additional parity adjustments will be made as necessary.