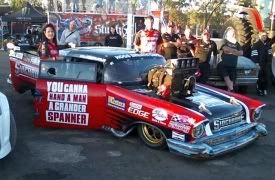 Bray vs. Bray in last hurrah for Townsville
(7-29-2012)
TOWNSVILLE, QLD – Team Bray spent 2 days prior to the event promoting at different venues around Townsville and a near capacity crowd turned up for the 2012 Trevor Mobb's Memorial 8th mile Slamfest round. The event no doubt will go down in history as the best ever event held at Townsville Dragway.
When qualifying wrapped up at 1:30 it was Ben Bray in 1st with a 4.459 @ 179.91mph and Victor Bray in 4th with 4.550 @ 163.63mph. In the first round of eliminations Victor put Maurice Fabietti on the trailer with a 4.546 @1 41.95 and Maurice's 5.205 @ 118.11. Ben had one by run into the semi's.
In the semifinal Ben's 4.248@167.91 was too good for Russell Pavey's 4.437 @ 158.99 and in the other semi final two of the sport's all-time greats lined up in Gary Phillips and Victor Bray. And what a race this was. Victor's reaction time got him to the end first when he ran 4.341 @ 172.41 to Gary's 4.316 @1 71.10 and that set the stage for a Bray V Bray final.
Benny "The Kid" had saved his best until last laying down a solid 4.232 @ 166.66 and this means his name will be engraved on the Trevor Mobb's Memorial trophy.
The Sidchrome Team Bray racing team leave Townsville with its name firmly in the history book.
Victor's MPH 8th Mile record, 8th mile ET record and final entered on the Trevor Mobb's Memoral trophy.
Victor Bray said: "Well that was a great weekend of racing in Townsville. When you have a good weekend at the track with great performances, final round appearances and a weekend of fun with your family and race team, it is not only worth all the hard work but it gives you a real sense of satisfaction. Ben had a 10th of second on me so I knew I had to hot my car up a bit for the final, unfortunately I hoped it too much and over powered the track."
"I would also like to thank the council of Townsville of all there help to make this event happen."
"On final note I have a little bit of history to add in 1981 in the first ever Wild bunch ran in Townsville and I won the final and tonight is the last ever final that will be run here and I was in that one too only runner-up this time."
Ben said: "A Bray verses Bray final how good is that? I am sure the worst nightmare for the rest of the Doorslammer field, probably even Dad on this occasion. I had a fast car all day and I was really happy with how it was handling."
"Last time we met Dad got me on the lights and I was not going to let this happen again. I got him on the light and I had him pegged all the way to the finish line. That will teach him for putting on his facebook page before the final that he was going to give me a spanking."
"I would also like to say a big thank you to all concerned and the fans who turned up. I really hope that something can be done soon to get Townsville a new home for Drag racing and we can come back and do it all again."
www.teambrayracing.com