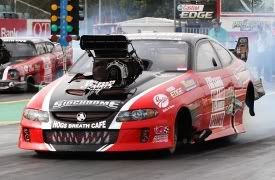 Thirty two years of racing at Benaraby celebrated with Slamfest
(8-7-2012)
KALLANGUR, QLD – Opening on 7th September 1980, the Golding Quarter was a 7 year project for the Port Curtis Drag Racing Club. Golding Quarter was named after the Golding Earth Moving Company and its owner Don Golding, whose earthmoving equipment was used in the construction.
The strip started off in a fairly basic state, without a timing system, control tower, guardrail or bitumen on the return and pit roads. There was no grass cover on the mound and pits. That first event was a street meet run with a basic Christmas tree, heads-up racing but no time cards. The track was given an interim sanction by ANDRA so it could run money-raising street meets to fund further development of the track.
Benaraby, as it came to be known, has come a long way since that modest beginning in 1980 and has hosted many great events over the years, including the Sunstate Nationals and Wild Bunch events in the late 1980s and early 1990s and more recently a round of the Queensland Eighth Mile Championship.
Now the Slamfest has hit town and looking to continue on with their form from the last round in Townsville are the Sidchrome Top Doorslammer's of Victor and Ben Bray.
Victor Bray said:
"I raced at many of those early Gladstone meetings, Marie and I used to drive the old black Chevy up from Brisbane, race and then drive back home. This weekend I am driving up in a B-Double truck."
"I think I have won at Benaraby 6 or 7 times but 2 highlights that will always be stuck in my mind are the Wild Bunch event in 1989 I won. Also when I beat the Ferricks and Parson's dragster who set the bench mark for drag racing in that era."
"That is enough about then, now it is all about Slamfest and it is going to be the biggest event ever for the Benaraby raceway and I have a score to settle with the drive of the Black Sidchrome slammer."
Ben Bray said:
"I am really looking forward to this event. I had a great weekend in Townsville and I am now in the number one spot on the points table. The Benaraby track had some major upgrades back in January of this year, it now has concrete wall to wall to the 8th mile so do not be surprised if a sub 4sec pass gets laid down, I just hope it will be mine."
"I have match raced Dad at Benaraby a few times and it would be great for us to have a repeat of Townsville and meet in the final. There will be a full field including new comer to Slamfest, Russell Mackay in his immaculate Corvette to get past plus the rest on the field first and that will not be easy."
Qualifying gets underway at 1:00pm with Eliminations to start at 2.30pm.
If you are unable to make it Benaraby this weekend you can keep yourself up to date at one of these web links:
Results will be posted during the event:-
http://www.teambrayracing.com/slamfest-results.html
.
Pit area web cam:-
http://www.teambrayracing.com/webcam.html
.
Facebook updates from the track :-
http://www.facebook.com/teambrayracing
.