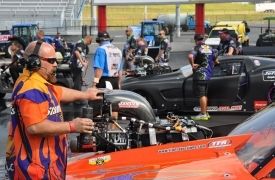 Moving on up in ADRL competition
(8-13-2012)
HAGERSTOWN, MD – The qualifying, yes I did say "qualifying", ladder we did at the spectacular zMAX Dragway in Charlotte, North Carolina! We managed to finally get ourselves qualified in the second round with a 3.84, backed up by a 3.81 in the third qualifying round which cemented our spot in the field even after we blew the tires off on the last shot. We had changed a lot of things on the car before the race to try and eliminate any variables that could be creating a glitch in what we are trying to do.
The ignition system that came back from Electrimotion did its job as did the new Rage fuel pump. AND we kept the blower on the car the entire race, which is a large plus for us here of late! Our nagging lack of oil pressure issues was cured after a visit to our pits by Mike Janis of JanCen Racing Engines. The old analogy that sometimes we cannot "see the forest for the trees" was very apt in this case. In one of our weight saving exercises over the winter we changed the style of oil filter we were using. When Mike spied it nestled between the frame rails he knew that was the cause of our problems. Isn't experience along with "friends in high places" a grand thing? We took the element out of the filter and made THREE hits on the same oil and problem solved!
We went into eliminations in the first round facing the newly wrapped Corvette out of the Taylor Racing stables piloted by Tim Tindle for our second race in a row! After strong burnouts both cars staged, got a quick tree, but were off with no dramas whatsoever. And yet again Mr Tindle nipped John in the traps with that infamous Taylor Brother's horsepower! One of these times the cards will fall our way in the traps! To lose by only .0022 seconds (EIGHT inches) is just about as close as you can get. But our day will come! We are back on the right track and are finding that the car is responding to the changes we make at any given time. And it is also telling us that if you go over the edge it will definitely let you know!
So now it is on to some testing before the next race in Memphis during the month of September. We think we have turned another corner in the search for our consistently fast race car. "The Appalachia on Steroids" Camaro at Z Max Getting ready to "get it on" with Mr Tindle.
Photo by Axle Weiss