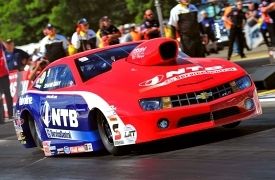 Shane Gray and NTB Service Central Camaro starting fresh on Saturday in Brainerd
(8-17-2012)
BRAINERD, MN – The first day of qualifying at the Lucas Oil NHRA Nationals at Brainerd International Raceway is under wraps, and Shane Gray and the NTB/Service Central Racing Pro Stock team are making calculated changes to their Chevy Camaro based on what they saw in their first two passes.
Gray first clocked a 6.63 at 207 mph that was 13th best of the opening session. In round two, while the focused Gray Motorsports crew had hoped to improve, they slowed to a 6.65 at 206.
"We were surprised and disappointed," said crew chief Justin Elkes. "Based on what we saw today, we're going to swap motors and set ourselves up for what we hope will be a much more successful run tomorrow. The conditions are likely to be a little bit better because we're going to be running earlier in the day, so we're going into tomorrow with a positive attitude."
The NTB/Service Central team will be dropping in an engine with proven reliability and performance with the expectation that it will deliver and sink them well into the field for raceday.
"There's big room for improvement during qualifying tomorrow, and we have every intention of taking advantage of that," said Gray. "We're doing everything within our power to get this NTB/Service Central Chevy Camaro in prime form for what we think will be a darn good session."
www.graymotorsports.com
www.servicecentralauto.com