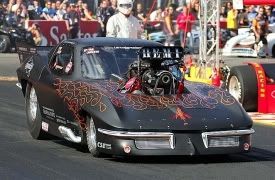 Pro Mod racing in Germany with Marcus Hilt and Trouble Racing team
(8-30-2012)
HAGERSTOWN, MD – This long awaited racing weekend was to start on Friday for all competitors with two rounds of Pro qualifying scheduled for Friday afternoon/evening. But this was not to be as the race track surface had developed some serious issues after its power wash three weeks earlier prior to the Formula One race. The track staff worked diligently to try and prepare the track for the horsepower that was about to attack it. They treated it and drug it and treated it and drug it long into the night throughout the week. The decision was sadly made to cancel the Pro sessions on Friday so they could continue in their attempts to prepare the track. Marcus Hilt "Trouble Racing" and I along with his entire crew were ready to race but sadly we would have to wait out the night!
Saturday dawned a beautiful day for the racers without a cloud in the sky and no rain forecast for days. This was a welcome sight for the racers who had gathered from all of Europe to contest this drag race. They have been plagued with rain at almost every round this year and it was fantastic to see the blue skies and the desire to race. But the largest issue was still the race track. It did not appear to be cooperating so well to the efforts of the track staff. The powers that be ran three rounds of sportsman cars in an attempt to get some rubber down on the track for the high horsepower cars. But this was all to no avail.
The first round of qualifying gave credence to the term "pedal fest"! No one got down the track at all in any kind of a representative fashion. But Marcus came out of that first round of Pro Mod qualifying as the number one qualifier with an 8.34 at a bit over 195! And this was in field that had four to five race cars that are proven five second runners! My old guy theories for getting a car down a marginal race track stood me in good stead throughout the weekend. I told Marcus before the first round not to worry about the race track and to use his "Supermarket Valet Parking Racer" skills in the driver's compartment and he would be fine. I assured him that we would go down this track whether or not anyone else did! The car may not be fast, it may not be pretty but we would go from end to the other! And do it we did! We were the only Pro Mod to get down the track all three times the entire weekend. We ended up number four qualifier with an 8.10 pass and posted the third fastest speed for the Pro Mods at a bit over 200MPH! I told John Smith, he of Top Fuel crew chief fame that it was like being at a match race in Dorchester, South Carolina on a starry Saturday night!
And the oil pressure issues that were plaguing Marcus' JanCen Racing Engines power plant for the last several years were solved as well, thanks yet again to the very same recommendation Mike Janis made to me about our own oiling issues at the ADRL Z Max race. As I have said before "it is great to have knowledgeable friends that are willing to impart that knowledge".
Sunday dawned another beautiful sunny day and the facility was fast filling up with spectators eager to take in the spectacle that is European drag racing. But as the old stories say, "Alas and alack" there was to be no Pro racing on this Sunday. The Pro racers held a meeting and determined that they felt the track was unsafe for elimination style competition. The offer was made by the powers that be to any racer who wished to have some "demo runs" for the fans. This offer was respectfully declined by almost the entire group of Pro racers.
I will not delve into the whys and wherefores of the decisions that were made to race, not to race or anything else about what was going to be an outstanding racing weekend. As an outsider it is not my place to render opinions or make suggestions. I just feel really bad for the racers who made the investment to attend the round and to the spectators who paid good money to see great racing. Hopefully some decisions can be made to eliminate this ever happening again. These decisions must be made if the European drag racing community is going to survive as a true multi-national championship entity. Good luck to all in accomplishing that chore.
Photo by Ivan Sansom - nitroshutter.com