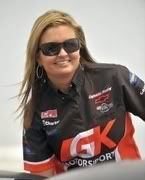 Enders waits out rain, holds on to No. 1 spot in Indy
(9-1-2012)
INDIANAPOLIS, IN – KLR Group driver Erica Enders and her GK Motorsports team endured a long, rainy day at Lucas Oil Raceway by holding on to the provisional No. 1 qualifier for the 58th annual Mac Tools U.S. Nationals presented by Auto-Plus on Saturday.
Enders also picked up three more qualifying points by being quickest in the lone Pro Stock qualifying session Saturday. She was in the staging lines for Q3 when NHRA ended the day because moisture in air and dew points made racing conditions impossible.
"It has been a really long day," Enders said. "With changing the setups back and forth, we thought we were going to run (at one point), and then it started raining again. Every time, we had to reassess our setup and go back and change everything. Even in the staging lanes, when we were about to run and it rained and then stopped, we made some changes as well.
"Our cars, being naturally aspirated, are more susceptible to atmospheric conditions than the other cars. It's a tough time when it's a day like today. But we went out there and made a pretty good run and were able to keep the No. 1 spot, so that's exciting. I'm proud of my guys."
Enders remains atop the Pro Stock qualifying chart with a lap of 6.624 seconds at 208.84 mph that was run Friday. On Saturday, Enders made a pass of 6.634 seconds at 208.04 mph that was quickest of the 29 cars making runs.
"We're hopeful the weather clears out of here and we get our two runs tomorrow," Enders said. "I'm confident in my team. You can only do so much with the race car and what the weather gives us. I know that every time we come up to the staging lanes that our car is prepared to the best of our ability and we're going to do the best we can to get the car down the track safely and as fast as we can. I'm excited and optimistic about tomorrow. I'm confident we can stay at the top of the pack and run with the big guys. I'm just really proud of my guys. They worked really hard, and they deserve it."
Rain interrupted Saturday's activities more than once, as remnants of Hurricane Isaac continued to dump precipitation on Central Indiana. It made for a long day for competitors, including Enders' team.
"We were looking at the radar, watching the Weather Channel, and we had all of our weather-station information pulled up," Enders said. "We were pretty skeptical about getting to run, but I'm glad that it cleared. NHRA worked really hard to get the track dried for us, and it was really great this afternoon. I was excited to get to run."
The forecast calls for an 80 percent chance of rain Sunday, when the final two qualifying sessions are scheduled. Eliminations are slated for Monday at 11 a.m. EDT.
"It makes your night's sleep a little better when you're in the field rather than on the outside looking in when the weather is uncertain the following day," Enders said. "I definitely wouldn't say there's anything easy about any of this stuff. But it does make you sleep a little better."
For more information, visit
www.GKMotorsports.com
.