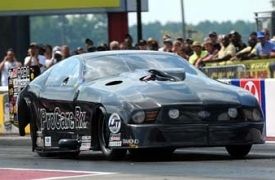 Pruett successfully defends Pro Mod win at Charlotte's zMAX Dragway
(9-16-2012)
CONCORD, NC – It's not taken very long for zMAX Dragway to become one of Leah Pruett's favorite places on Earth.
Pruett won the NHRA Pro Mod Series presented by ProCare Rx race at the O'Reilly Auto Parts NHRA Nationals for a second consecutive year. She guided the ProCare Rx turbo Ford Mustang around Mike Knowles in the finals to secure the victory.
"It feels phenomenal," Pruett said. "To think that the three times I've been here in this car, I've reached the finals all three times and won twice. At the beginning of this race, I had a good feeling about getting to the final round and back in the winner's circle."
Pruett reached the final in the spring race at zMax Dragway earlier this year.
Against Knowles, Pruett had her best reaction time of the weekend to launch to a final pass of 5.936 seconds at 246.44 mph. Knowles got out of shape early and coasted to a pass of 9.088 at 102.78 mph, but Pruett didn't know what was going on behind her.
"That final round was one of the edgiest passes I've had in this car in a long time," she said. "If it would have been anything but a final round, there would have been a little bit of lifting going on. It was pretty gnarly."
"All I knew was that I didn't see him, which means I was in front of him. All that meant I had to keep going. That would have been the worst feeling in the world to see someone go flying by you if you lifted in the finals."
Along the way to her first victory of the season, Pruett beat teammate/car owner Roger Burgess, Don Walsh and Kevin McCurdy.
"I'm so proud of what everyone on this R2B2 Racing team has done," Pruett said. "We've now won back-to-back events, which is very cool. They've been keeping me pumped up and helped me with my reaction times. The worst reaction time I had all day today was a .039."
Pruett and her team had to wait a few anxious hours waiting for the racing to begin following a rain delay to start the day then waiting another couple of hours for the Pro Mods' turn to race.
"Waiting that long for the second round was so nerve wracking," Pruett said. "You've got everybody waiting all day and you don't want to let anybody down by going out so early.
"It stunk to have race Roger first round, but he said, 'Now that you've beat me, you have to win - boss' orders.'"
In that first round Pruett finished in 5.993 seconds at 249.49 mph to Burgess' 6.048 at 251.34 mph. In the second, Pruett ran a 6.010 at 242.23 mph to Walsh's 7.044 at 155.49 mph. Her pass in the semifinals was a 5.883 at 248.61 mph to McCurdy's 8.285 at 114.54 mph.
With the win, Pruett moved up to the fifth spot in the Pro Mod standings. She's currently one point out of fourth and 12 points out of third.
"We want to end the year on top and run the table in our last four races of the year," she said. "We're halfway there. We are going to celebrate tonight then it's back to the track tomorrow morning to test our two cars and I'm also going to get my crossover Top Fuel license with Dote Family Racing as well."
Photo by Auto Imagery