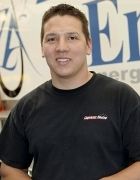 Indy winner Connolly would love to add Dallas hardware to trophy case
(9-22-2012)
ENNIS, TX – GK Motorsports driver Dave Connolly is looking for a repeat of the fabled U.S. Nationals in this weekend's AAA Texas NHRA Fall Nationals at Texas Motorplex.
At Indy, Connolly and teammate Erica Enders were on opposite sides of the Pro Stock ladder, and each raced to the finals. Connolly, who also serves as crew chief with Tommy Utt on Enders' car, won that matchup and took the trophy of drag racing's biggest event.
This weekend, they're on the opposite side again, as Enders qualified No. 2 and Connolly No. 9.
"On the optimistic side, Erica's car is running well," Connolly said. "If things go to plan, we could take out a bunch of these Countdown cars tomorrow. The ladder couldn't have fallen any better. We've just got to get this hot rod a little better."
Connolly took the No. 9 spot with a pass of 6.591 seconds at 209.88 mph, and he'll face No. 8 qualifier Mike Edwards (6.585 at 211.03 mph) in the first round of eliminations Sunday.
Edwards, interestingly, was the driver Connolly beat in the first round in Indy.
"I'd be smiling ear to ear if we're running Erica in the final tomorrow," Connolly said. "After our big flop last weekend, that would definitely get us back up where we need to be. It could be a big day tomorrow, for sure."
Connolly fell in the second round at zMax Dragway in Charlotte last weekend when he had to back out of the throttle to regain control of his Chevrolet on a recalcitrant race track. Connolly wasn't the only driver to have trouble at Charlotte, as Enders pulled her chutes to save her car and Shane Gray crashed while trying to control his Chevy.
Connolly is making his fifth start of the season, having reached the final in Houston and Indy. He continues to try to make improvement to the Chevy Cobalt.
"I don't know, we've got a gremlin in our car, for sure," Connolly said. "It's off a couple hundredths, and we're trying to figure it out. We're switching some parts in and out, trying to eliminate as many things as possible for tomorrow."