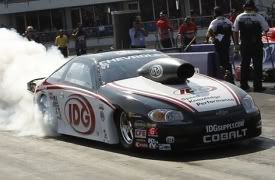 Despite strong showing, Connolly wanted more from Dallas race
(9-23-2012)
ENNIS, TX – GK Motorsports driver Dave Connolly had a long list of goals he wanted to accomplish in this weekend's AAA Texas NHRA Fall Nationals at Texas Motorplex.
He was able to get some of them done Sunday, like taking out Countdown to the Championship driver Mike Edwards in the first round and helping guide teammate Erica Enders to the final round.
But he wanted to do more on a hot, sunny day in Texas.
"It was definitely a day to be a blocker," Connolly said. "We were on opposite sides of the ladder (with Enders), and every person we were going to run was in the Countdown and racing for the championship. We thought we could do some damage, but we just came up short against AJ."
After beating Edwards, Connolly fell to eventual race winner Allen Johnson in the second round, despite leaving the starting line.
"If we were racing to the Tree, I think we would've had him," Connolly said. "That was the first of two times he got left on today."
The other was against Enders in the final, though neither GK Motorsports driver had quite enough to edge Johnson this day.
Connolly started by beating Edwards, fifth in the standings, in the first round. He left with a .034-second reaction time and then made a pass of 6.616 seconds at 210.44 mph to beat Edwards run of 14.139 at 54.86 mph.
That put Connolly against Pro Stock points leader Johnson, and he again left first, this time with an .020 light. Johnson wasn't far behind, though, and he ran down Connolly with a pass of 6.603 seconds at 210.54 mph. Connolly went 6.626 seconds at 210.05 to come up about three feet short.
"We're just off on performance in that car," Connolly said. "We had a little bit of luck against Edwards and stopped him from gaining any points.
"Once I walked in the trailer and took that run down, I was on to Erica's car. There was just one less car to worry about at that time. It just didn't pan out."
Enders raced to the finals, when the engine in her car bogged off the starting line with a mysterious electrical problem.
"We've got to get our car to run a little bit better down low," Connolly said. "We're giving up way too much early in the run. It showed up at the finish line. We just lost a close race.
"We should've gotten the job done with Erica's car. We got to the final and had electrical problems. Lady luck is not on our side right now."