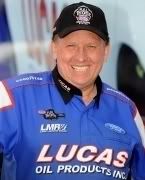 Morgan's Lucas Oil Mustang bucks him off early
(9-23-2012)
ENNIS, TX – Larry Morgan's remarkable recent run of round wins hit a bump on Sunday at the AAA Texas NHRA Fall Nationals at Texas Motorplex.
Heading into eliminations, Morgan and the Lucas Oil Ford Mustang had won at least one round in three races in a row. On Sunday against Vincent Nobile, Morgan's Mustang lived up to its wild nameplate by getting out of shape early in the run.
"I'm not sure what made the car shoot to the left like it did," Morgan said. "I've got a rear-end housing that's not made specifically for the car and I guess we didn't have enough free load in it."
That dash to the left at the start pretty much doomed Morgan's race against Nobile, who cruised to a 6.577 second pass at 210.37 mph. Morgan regrouped to run a 6.625 at 209.14 mph, but the after the bobble it was too little, too late.
Morgan said the track was tricky to pin down all weekend long.
"Last night the air was good, but the track wasn't as good as it was today," Morgan said. "This morning, the car just went to the left and I don't know why.
"Without the dash to the left, I could have run a 6.59, maybe."
Now Morgan and his crew will make a mad dash back to the shop to service the car and make some repairs before heading back on the road next week.
"I'm going home to work on the car and freshen everything up," Morgan said. "We're all going to have to work hard to get all we need done, then head off to St. Louis.
"These four races where we've been criss-crossing the country have been tough on all our guys and our parts. It's going to be nice to have at least a day or two to get some service work done on the car."
Up next for Morgan and the Lucas Oil Mustang is the AAA Insurance NHRA Midwest Nationals at Gateway Motorsports Park starting on Friday and running through Sunday.