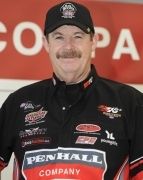 Edwards focused on victories
(9-27-2012)
MADISON, IL – Only two races into the NHRA playoffs, and Mike Edwards and his Penhall/K&N/Interstate Batteries team have their backs against the walls if they want any hope of capturing the 2012 NHRA Pro Stock championship. With earlier than expected exit in Charlotte and Dallas, Edwards and his crew only have one goal in mind - capturing the NHRA Wally at the last four stops.
"Losing early in Dallas has really put us in a hole, but we know anything is possible over the next four races. We have to come out fighting and hope that all the little things that have bit us and cost us races thus far in the playoffs are behind us," Edwards said. "We can't worry about what everyone else is doing, we need to make eight quality runs this weekend in St. Louis, and continue doing that the next three races in Reading, Las Vegas, and Pomona."
Edwards is excited that the NHRA tour is returning to Gateway Int'l Raceway just across the Mississippi River from St. Louis, because he knows the last time the tour was at the facility in 2010, he had the best combination. He qualified No. 1 for the event and reached the final four, only to lose when he could not stage the car.
"We have some unfinished business with this track" he said. "I can easily say we had the best car on the property in 2010 and just had an issue that didn't allow us to stage in the semifinals. We know we can be even faster than that time and will need to be to have a chance of getting the trophy."
Edwards has tasted victory at Gateway. In 2006, Edwards grabbed his lone trophy as a driver at the facility, and in 2000 helped tune Ron Krisher to the winner's circle. "In the past we have produced some fast hot rods at the track and when you've accomplished a couple things at a track, it makes it that much easier to return and try to build on those."
Edwards currently sits in sixth place in the points battle, trailing leader Allen Johnson by 215 points.