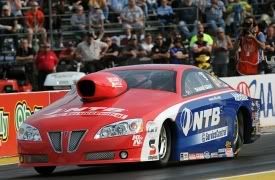 Shane Gray and NTB Service Central Pontiac leave Gateway Motorsports Park well grounded and on the rise
(9-30-2012)
MADISON, IL – The final results of the AAA Insurance NHRA Midwest Nationals did not leave Shane Gray and the Gray Motorsports team feeling dejected. Instead, the strong-minded and unwaveringly determined group accepted and noted the advancement of the NTB/Service Central Pontiac GXP and are eager to expand on what has been gained.
Throughout qualifying, Gray and his team saw the reward of near non-stop efforts to improve as they recorded three solid runs: 6.585, 6.564 and 6.566, each at over 210 mph. Starting from the No. 13 position in the quick field, Gray drew No. 4 qualifier Erica Enders, and although he was just a bit behind his opponent when they launched from the starting line, Gray put another strong effort in the books with a 6.588 at 210.05 mph.
Enders' run was the quicker of the two (6.538) and netted the win, but Gray was pleased with the overall outcome of the weekend. The three most recent events before the Midwest Nationals were riddled with trouble: a ferocious crash in Charlotte was bookended by non-qualifying efforts at the U.S. Nationals in Indianapolis and the Fall Nationals in Dallas.
"Our last qualifying run on Saturday was our best, and that was the best I've felt in a long time," said Gray, who was eighth-quickest overall in the final qualifying session. "We've been through a lot here lately, and to run like that and know that there is more to come, well that just reminded me that we're making our way in the right direction.
"Since we aren't in the Countdown, we're out here racing and trying out a few things, and we're already making big strides. I'm not disappointed about anything that happened this weekend. I know I have some room for improvement with my driving, and as a team we know there is more room for advancement with our program. We're just going to keep working at it. But I'm pretty darn proud of my guys. We're on our way up with this Service Central car, that's for sure."
Crew chief Justin Elkes noted that their time in the first round of eliminations could have been a bit quicker, but there was no let down over the results.
"We weren't aggressive enough and it still ran a 6.58," said crew chief Justin Elkes. "That was a pretty good run. You never get excited to lose, but this NTB/Service Central car is really showing us something. The next race is in Reading, and at this time of year, it's fast there. Hopefully, we will be able to take advantage of those conditions and make even more improvements in our program."
The next event on the Full Throttle Series tour is the Auto-Plus NHRA Nationals at Maple Grove Raceway in Reading, Oct. 4-7, 2012.