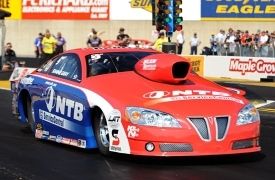 NTB Service Central driver Shane Gray gives it his best shot in tough raceday match in Reading
(10-8-2012)
MOHNTON, PA – Pro Stock driver Shane Gray always enjoys visiting Maple Grove Raceway near Reading, and the Auto-Plus NHRA Nationals is a highlight on the Full Throttle Series schedule for the second-generation driver who takes residence approximately 10 hours south in Denver, N.C.
Gray has history at the venerable facility that hosted its first NHRA series event in 1985. In 2010 – his rookie season of driving in the very competitive category – Gray beat veteran driver V. Gaines on a holeshot in the first round, advanced to the semifinals when his father (Johnny Gray, now a championship-contending Funny Car driver) red-lighted by .012-second, and then bowed out in a very close semifinals race with Dave Connolly, 6.59 to 6.60.
"I always love coming here," said Gray. "I just wish we could have done better this weekend for NTB and Service Central. I think that the thing we need to keep remembering is that because we aren't in the championship hunt, we are really in test mode right now. We are doing everything we can to prepare to make next year the best year we've had yet, but in the meantime, it sure wouldn't hurt to see ourselves making some headway on raceday."
Gray qualified in the No. 16 position with a best time on record of 6.623 at 208.49, but on the first day of the event he cleared the finish line with a 6.61 followed by a 6.60 in the second session. The times were, unfortunately, not enough to hold over to the second day, and the team was forced to start fresh.
In the first round of eliminations, Gray drew No. 1 qualifier Jason Line. In 2010 – his rookie season – Gray picked up the second round win of his career by defeating Line in the opening match at the national event in Houston, and in Topeka in 2011, Gray got past Line in round two en route to the second professional victory of his career. But the opening act of the Auto-Plus NHRA Nationals in Reading this season was a different story.
Gray did his job and nabbed a sizable starting-line advantage, leaving ahead of Line by .040-second, but he soon fell into tire shake allowing Line to quickly made up the difference and clock the second-quickest lap in the history of NHRA Pro Stock competition to send Gray home empty handed.
"I knew I had to have my act together on the starting line if we were going to have any kind of chance against Jason," said Gray. "My light was alright, it could have been better, but it would have been darn near impossible to beat a run like that.
"We had a decent weekend at Maple Grove, and there were a few more things that we were able to put into our bank of knowledge. We'll go on and test out at Rockingham before the next race in Las Vegas, and we'll see what we can bring out west. For now, we're going to head home to North Carolina and get back in the engine shop to keep digging away."
The next event on the Full Throttle Series tour is the Big O Tires NHRA Nationals in Las Vegas, Oct. 25-28, 2012.