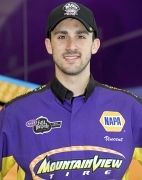 Nobile suffers rare early loss in Reading
(10-8-2012)
MOHNTON, PA – NAPA/Mountain View Racing Pro Stock driver Vincent Nobile suffered a rare round one loss at this weekend's NHRA event in Reading, Pa., when he was beaten by Mopar teammate Allen Johnson. Nobile did just job on the starting line with a nearly-perfect .007-second reaction time and ran a competitive 6.54 at over 211-mph but it was not enough as Johnson, the current points leader, won with a 6.52.
"We could have made a better run but I'm not sure that would have been enough," said Nobile. "It just wasn't our day. It's frustrating because we needed to do well here to keep pace in the points standings but that's kind of out the window now."
Nobile's problems began in qualifying where he ran a 6.567 to qualify 11th, the first time this season he has not had lane choice in the opening round of eliminations.
"The conditions this weekend were very fast, but it also left almost no room for error," Nobile said. "We didn't make a good run when it counted and that's why we found ourselves qualified 11th. We should have been one of the top four or five qualifiers and then we would not have had to run Allen in the first round. I can't complain, though. We've been very good lately and I think we will be even better at the next race so we're just going to move on to Las Vegas."
Despite the loss, Nobile remains the fourth-ranked Pro Stock driver in the NHRA Full Throttle Drag Racing Series. He is currently 52 points behind fourth-ranked Erica Enders.
"We still have an outside shot to finish third but it will be tough," said Nobile. "The way I look at it we have two races left this year and I'm going to do all I can to win both of them. We have a great car and a great team and if we could get another win or two this year that would be a great way to end the season."
After six-straight weeks of racing, the NAPA/Mountain View team will now take a well-deserved rest before heading to The Strip at Las Vegas Motor Speedway for the next NHRA event, Oct. 25-28.