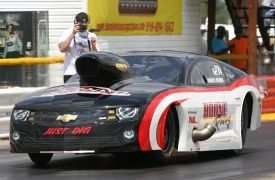 EOPM Nationals this Saturday at Dunn-Benson
(10-10-2012)
BENSON, NC – The biggest race of the year for the Extreme Outlaw Pro Mod (EOPM) racers with the biggest payout of the year will be held at The New Dunn-Benson Dragstrip on Saturday, October 13, 2012.
Roger Williams has once again has put up the biggest payout for our biggest race. The EOPM Nationals payout is as follows; $6000.00 to win, $1500.00 runner up, $1250.00 semis, $1000.00 to qualify. If we have more than 20 cars we will pay back 9-12 positions $300.00.
Track owner Roger Williams two weeks ago hired track guru Bubba Turner to prep the track, to make sure that the track is right for all EOPM racers. For those who don't know Bubba, he prepped the track at Piedmont Dragway for years. "I know Roger wants the best racing surface for all racers, and he is doing everything in his power to have the track right," said EOPM Race Director Stuart Williams.
To be able to race in the EOPM Nationals, you must have raced with the EOPM in at least one race in the 2012 racing season. We are also having a cookout on Saturday for all EOPM racers. We want to give something back to the EOPM racers for making us the BEST OF THE BEST IN OUTLAW PRO MOD RACING!
We also would like to thank all of our sponsors, racers, tracks and race fans for making the EOPM what it is today! The Best of the Best in Outlaw Pro Mod Racing!
The EOPM wants to thank all of the racers and fans that came to support the EOPM. We also thank all of our sponsors, Carolina Precision & Machining, Extreme Starting Systems, Buck Racing Engines, Virginia Speed Race Cars, Tommy Mauney Race Cars, Hank Thomas Performance & Sunoco race fuels (The official fuel of the EOPM), Beal Racing Engines, Robert Hayes Motorsports, Rogers Automotive & Racing Transmissions, Dunn-Benson Dragstrip, Williams Concrete, Keene Visuals, KW Multi Media Group and Mobea Solutions.
www.extremeoutlawpromod.us
www.buckracingengines.com
www.dunnbensondragstripinc.com
Story and photo by KW Multi Media Group