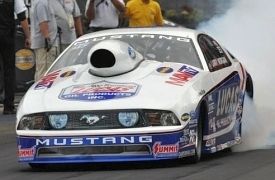 Engine issues keep Morgan out of eliminations at Las Vegas
(10-27-2012)
LAS VEGAS, NV – Luck was not on Larry Morgan's side at the Big O Tires NHRA Nationals at The Strip at Las Vegas Motor Speedway.
Morgan and the Lucas Oil Ford Mustang failed to qualify for Sunday's eliminations after his car lurched to the right off the start all weekend long.
"We hurt our engine after our first run," Morgan said. "Even though we put up a good number in the second run, it did that engine in. When we put in the new engine on Saturday, it just completely changed everything."
Morgan's best effort was 6.685 seconds at 205.57 mph, which would have been enough to make the field (6.693 was the bump spot). However, Morgan was 13th after Friday's qualifying and that time was thrown out -- by NHRA rules, the top 12 drivers get to carry their times over to Saturday.
"Unlucky 13 ended up tough on us," Morgan said. "The new engine just changed everything about the car. It was a completely different animal."
Starting from scratch on Saturday, Morgan's car made a hard move to the right and almost hit the wall before he got out of the throttle and coasted across. In the last chance, the car pulled hard right again and almost crossed the center line. The car didn't even make it to the finish line on his last run.
"Just having two runs on the new engine wasn't enough time to get everything all dialed in," Morgan said. "We compounded the problem by not making some good decisions with the clutch and transmission.
"We were just pretty much behind the curve all weekend and never were able to catch back up. We'll get it back together and have it ready to race in Pomona."
Morgan will pack up his gear and head west for the final race of the season, the Auto Club Finals, being run from Nov. 8-11 at Auto Club Raceway in Pomona, Calif.