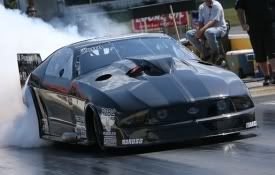 Pruett and Brand score a pair of round wins for ailing team owner
(4-14-2012)
CONCORD, NC – It's a little different in the R2B2 Racing pit this weekend with team owner/driver Roger Burgess under the weather and not in attendance, but team driver Leah Pruett and emergency fill-in shoe Brad Brand are doing a good job of making their absentee stablemate feel better.
"We miss Roger!" Pruett said. "But if there's anything we can do to make him feel better it's turn on those win lights so he needs to know how hard we're trying for him. It would be great get the Wally for him."
Pruett and Brand, the group's crew chief, successfully nailed down two of the top three qualifying positions on the elimination ladder of the Pro Mod Drag Racing Series presented by ProCare Rx and turned that early success into big Round 1 wins Saturday afternoon.
Pruett qualified third overall with a 5.934 at 249.95 mph in her turbo-charged ProCare Rx Ford Mustang. She then dismissed Steve Matusek with a 5.953 at 251.81 mph to Matusek's 6.092 at 247.38 mph to advance to Sunday's quarterfinal action. Pruett's top speed in Round 1 was the best of the meet.
Brand, meanwhile, qualified Burgess' turbo-charged '53 Corvette second on the grid with a 5.918 at 248.84 mph, before crushing first-round foe Pete Farber with a 5.926 at 248.48 mph to Farber's aborted 13.480 at 65.23 mph.
"I think Brad would agree that the first round win is always the best one to get," Pruett said. "It gets you past the jitters and puts you in such a good mindset. The fact both Brad and I won makes it that much better.
"We had some tire shake issues yesterday and the guys figured it out by today, obviously, so I think we'll just leave the car alone and take our chances tomorrow. It's going to be hotter when we run Round 2 and we don't want bring any more tire shake into the equation. This track seems to like it when you have a little tire spin instead.
"I really don't foresee any 5.8s tomorrow so if we can keep them in the low 5.9-second range then we should be competitive. I just want to concentrate on getting good lights and driving well. I left on (Matusek) in Round 1, which was something I really wanted to do, and I want to continue that trend next round."
It has been a challenging weekend as Brand is normally the one in charge on the starting line when Pruett is preparing for each run. But with Burgess sidelined and Brand taking his seat, the crew has had to improvise.
"There's actually been a lot more communication between the two crews," she said. "The feeling of this being a real team effort is coming through, even more than normal. We try to run the cars really similar anyways but it's been more amplified this weekend. I think Roger would be real proud of us."
The second round of Pro Mod is scheduled to take place Sunday afternoon as the regular pro rounds take place.