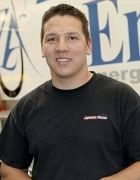 Connolly takes KLR Group to runner-up finish in Houston
(4-29-2012)
BAYTOWN, TX – Dave Connolly wore a smile after the O'Reilly Auto Parts NHRA Spring Nationals at Royal Purple Raceway, but it wasn't as bright as he wanted it to be.
In just his second Pro Stock race of the season, the KLR Group/Alamo Iron Works Chevrolet driver made it all the way to the final round before bowing to Vincent Nobile.
Connolly, a 21-time winner in Pro Stock, pulled off a .011-second reaction time in the final, .002 behind Nobile, but then made his slowest pass of the day, going 6.604 seconds at 210.41 mph. Nobile went 6.595 seconds at 210.14 mph to nip Connolly by about three feet.
"It was a good race in the final. If we'd have gone .58 like we did in the semis, we'd be a winner today, but it just wasn't the case," Connolly said. "We had a little hiccup in the final in low gear and it cost us.
"Everybody we ran is a tough out. It's a game of thousandths and you can't leave anything on the table at any time. We learned that again here today."
Connolly was happy about the weekend, especially since it comes in a part-time role, but he clearly wanted more.
"Being competitive, you always want to walk away with a Wally," Connolly said. "When you don't it definitely takes the wind out of your sails, even with a runner-up. But it's nothing to hold our heads about.
"It was fun. You try to take advantage of every time we get out here because my schedule is pretty limited these days. It got cut short in Charlotte and this will be the last one for a little bit. We were trying to take full advantage of it but it just didn't happen. It just wasn't meant to be."
Connolly normally serves as a crew chief with Tommy Utt on Erica Enders' KLR Group Chevrolet, and with both drivers on opposite sides of the ladder, they could have met in the finals. Alas, Enders' car slowed in her first-round loss because of a parts failure.
"That probably cost her making it to the finals," Connolly said. "Vincent got away with a red-light second round. If we could've been there to take advantage of that, it would've been a real good day for all of GK Motorsports."
Connolly returns to his role as crew chief for Enders next weekend at Atlanta Dragway for the Summit Racing Equipment Southern Nationals on May 4-6. He is scheduled to drive again at Charlotte and Dallas later this year. And though he continues to be a part-time driver, he expects full-time results.
"I expect to go out there and do well," Connolly said. "We've got good power, and we've got Tommy Utt back over here. Even though we're experimenting a little bit with that car, we felt like we could hit the ground decent. To come out here and say you're going to qualify top four, that's a bold statement. I wouldn't have said that, by no means. That surprised us a little bit.
"I tried to do it round-by-round; I was hungry and drove decent today. It just wasn't enough."