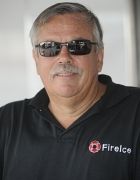 'Lucky' Payne wins 42nd national event, this one in Houston
(4-29-2012)
BAYTOWN, TX – With more than three decades in the sport of drag racing, FireIce Top Alcohol Funny Car driver Jay Payne knows that sometimes it's better to be lucky than good.
Sunday at the 25th annual O'Reilly Auto Parts NHRA Spring Nationals at Royal Purple Raceway, Payne was lucky – and then good – in winning his first national event of the 2012 season and 42nd of his illustrious career.
"It was a weekend where we were really lucky," Payne said. "It was ugly, but the FireIce car did well. We were in the right place at the right time. Hey, we've lost a lot of races that way, and today we were lucky enough to win one. We were luckier than the car ran well, if that makes sense."
Payne beat Mark Billington in the first round in a solid race, going 5.622 seconds at 255.24 mph to Billington's 5.664 at 252.47 mph.
In the second round, Payne slowed to a pass of 5.784 at 254.42 mph, but Annie Whiteley was late on the line, and then aborted her pass at half-track to end up with a run of 8.934 at 93.47 mph.
Payne then pulled off a holeshot win over Mickey Ferro in the semifinals, using a massive .112-second advantage on the Tree to overcome Ferro's better run of 5.653 at 255.87 mph. Payne was slower at 5.685 at 254.86 mph, but he was going to the finals anyway, thanks to his big head start.
"(Whiteley) went a lot quicker than us, but she was late on the starting line," Payne said. "In the semis, Mickey Ferro screwed up, went 'blink, blink' and didn't mean to, and he was late. He was three-hundredths quicker than us, and we won."
Then, in the final round, Payne outran Steve Gasparrelli to secure the victory. Payne's lap of 5.631 seconds at 260.06 mph beat Gasparrelli's 5.652 at 259.26 mph.
"In the final, it was just a good, old drag race," Payne said. "The car finally came around. The crew worked their butts off, and in the final, the car ran good."
In the end, Payne was hoisting the Wally trophy as the winner.
"And the beer," he said with a smile.