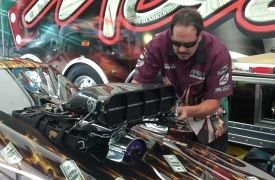 Knowles looking for winner's circle fireworks this weekend
(7-4-2012)
GRAND JUNCTION, CO – Mike Knowles and his "Blown Money" team are hoping for some fireworks in the winner's circle at this weekend's Summit Racing Equipment NHRA Nationals. Held at Summit Motorsports Park, the event is the sixth start of the 10-race 2012 season.
"Running at Norwalk is always a good time, said Team Owner/Driver, Mike Knowles. "The fans here love their door slammers, especially Pro Mods. That makes you want to work just that much harder when you know the crowd you're in front of. Add that to the fact that it's basically the Fourth of July Weekend and you have the potential for some great on the track fireworks. I mean outside of what the Bader family has planned," added Knowles.
Knowles' team is lead in the pits by Red Bluff, California's Bill Rice of Bill Rice's Performance Automotive. "Billy does a fantastic job with the car. He's one of the best mechanic's I've ever worked with. He does so much more than just service the car and make it ready for each round. I'm lucky to have him as my car chief," said Knowles.
The Blown Money team and the rest of the Pro Mod contingent will have two qualifiers on Friday set for 3:30 and 6:30 pm. The final qualifier for Pro Mod will take place Saturday at 10:30 with the first round of eliminations scheduled for 4:00 pm. The final rounds of qualifying will take place Sunday during Professional eliminations.
Blown Money Racing would like to thank their supporters:
NGK Spark Plugs
www.ngksparkplugs.com
Red Line Synthetic Racing Oil
www.redlineoil.com
Goodyear Racing
www.racegoodyear.com
GRP
www.grpconrods.com
WINBERG CRANKSHAFTS
www.winbergcrankshafts.com
Photo by Roger Richards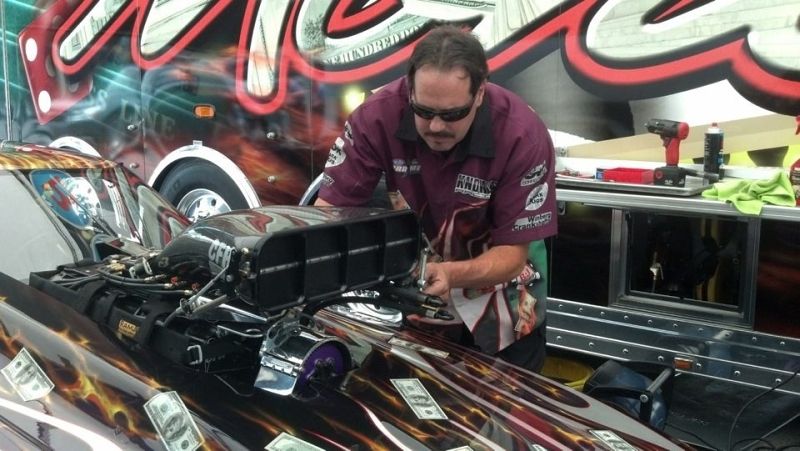 Bill Rice