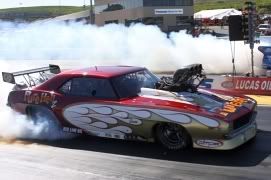 West Coast Outlaw Pro Mod Association invades Sonoma Raceway this weekend
(7-19-2012)
SONOMA, CA – The fourth stop on the West Coast Outlaw Pro Mod Association's 2012 schedule is coming up this weekend at Sonoma Raceway in California's beautiful Napa Valley during the NHRA Division 7 event. Lots of racers are pre entered making it the biggest event for the series thus far this season.
Current points leader, Rod Burbage, is making the trek to try and retain his point lead but Mike Maggio and a group of other racers are eyeing that number one spot and look to capture it when it's all said and done on Sunday.
Joining Burbage and Maggio will be a long list of top notch teams which include Marc Meadors, Scott Bailey, Rob Cacioppo, Ballance Racing with Blake Housley behind the wheel, Dan Myers, Monty Berney, Sean Renteria, Joe Lepone Jr., Scott Oksas, Troy Ferry, Rob Moore, Rich Roberts and Justin Wake. A few other drivers have shown interest recently so we may get a couple unexpected teams as well.
Thursday will be a track hosted Test N Tune available to all racers in all classes from 12-5. On Friday there will be one qualifying pass scheduled for 3:30. Saturday will host two more qualifying sessions scheduled for 12 (noon) and 3:30. Sunday will be elimination rounds for the 8-car field starting at 12 (noon) where the qualified drivers will battle it out for a "Wally" trophy to hold up in the winner's circle at the end of the day.
Follow along with the action all weekend on the WCOPMA's website located at
www.WestCoastOutlawProMods.com
, results will also be posted on the association's Facebook page.
Sonoma Raceway has a USTREAM live video feed as well as 1320go live timing so you can watch and see the runs as they happen all weekend. For the video link click here (
http://www.ustream.tv/channel/infine...way-drag-strip
) and the live timing click here (
http://www.1320go.com/sonoma/livetiming.php
).
Thank you to all of our 2012 season sponsors:
Schaeffer Oil –
www.SchaefferOil.com
Brad Anderson Enterprises –
www.BradAnderson.com
RBS Superchargers –
www.RBSSuperchargers.com
Hoosier Tire West –
www.HoosierTireWest.com
Spec Rite Converters –
www.SpecRiteConverters.com
Goodguys Rod & Custom Association –
www.Good-Guys.com
Brandt Racing Enterprises –
www.BrandtRacing.com
R.E. Borrmann's Steel –
www.BorrmannSteel.com
Pacific Repair Services –
www.PacificRepairServices.com
Law-Ru Motorsports