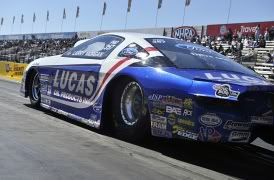 Morgan's Mustang ready to ride wild on Western Swing
(7-19-2012)
MORRISON, CO – After a season-long battle with the clutch on the Lucas Oil Ford Mustang, Pro Stock driver Larry Morgan believes that after his latest test, he's ready to make his move at this weekend's Mopar Mile-High NHRA Nationals at Bandimere Speedway.
"I tested for three days up in Martin, Mich.," Morgan said. "Everything went well there. The car is going through the run a lot better. We've worked the clutch out and we feel like we'll run real well.
"We ran well in the last session at Norwalk, but just missed it at the wrong time on Sunday."
Racing in the Rocky Mountains is always struggle for the Pro Stock class, because the naturally-aspirated cars are always gasping for air in the thin atmosphere in Bandimere.
"The key to racing up here is gear ratio and engine tune up," Morgan said. "It's really a no brainer, because what you've got is what you've got.
"You got to make a lot of changes to the car for this one race. We've got to have special transmission gears and special rear end gears just for this race."
The Mile-High Nationals marks the beginning of the three races in three weeks Western Swing, which can put a lot of pressure on the team just to get ready to make the long trek.
"The guys have been doing a good job getting ready for the Swing," Morgan said. "Car counts in Pro Stock aren't very high during this stretch of the season, so this is a good chance for us to go some rounds and make up some ground in the points."
Morgan is in 12th place in the Pro Stock standings, but is only a little more than one round (24 points) out of the 10th and final spot that will qualify for The Countdown.
Pro qualifying for the Mopar Mile-High NHRA Nationals gets under way at 4:45 p.m. MDT Friday from Bandimere Speedway. Qualifying continues on Saturday with two sessions starting at 12:45 p.m. Sunday's eliminations get started at 11 a.m. ESPN2 will air the qualifying show at 5 p.m. EDT on Saturday and the eliminations at 7 p.m. Sunday.