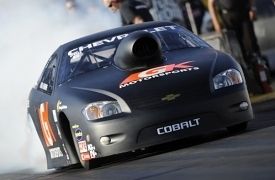 KLR Group racer Enders showing she has car capable of winning Denver
(7-21-2012)
MORRISON, CO – KLR Group driver Erica Enders knows it won't be easy to win on the mountain that holds Bandimere Speedway, but her and her GK Motorsports team have what it takes to go to victory lane in the 33rd annual Mopar Mile-High NHRA Nationals.
Enders qualified No. 6 and posted the fifth-fastest passes in both qualifying sessions Saturday as she chases the second win of her career. Enders' top lap was 6.989 seconds at 196.06 mph, and she'll face No. 11 qualifier Larry Morgan (7.046 at 195.70 mph) in the first round of Sunday's eliminations.
"It's nice to make the six-second club up here, although we were confident it would happen," Enders said. "Like I said coming in, this place is difficult from all aspects. But we've got our stuff together. We're running well, running consistent, and that's what it's going to take to go rounds Sunday. It'll be a long, hot day but I'm excited about what tomorrow holds. We'll see."
Temperatures reached into the mid-90s Saturday, but Enders was still fast in her Chevrolet Cobalt during Q3 and Q4. Her pass of 6.989 seconds in Q3 was fifth-best, as was her run of 6.997 seconds at 196.39 mph in Q4.
"I'm glad we were able to throw up some good numbers in the heat of the day like we did in both runs today," Enders said. "That gives us confidence going into tomorrow, knowing that the conditions are going to be pretty similar to what they were today. We're going to be racing in the sunshine on a hot track."
It will take four more runs like that Sunday to win, as well as a stellar driving effort from Enders. But that's what happened in Chicago two races ago when Enders became the first woman in history to win in the ultra-competitive Pro Stock class.
"It takes having a consistent race car," Enders said. "If we all do our jobs tomorrow, it could be a good day."
The weekend has been good so far for Enders, who has done several media interviews, led Bandimere's "Go Red For Women" Track Walk and met countless fans - despite the fact that Pro Stock teams are parked a fair distance from the grandstands.
"A lot of fans have come by to say 'hi,'" Enders said. "We did the track walk this morning, and there were a lot of fans there, too. I noticed the stands before I fired the last session, and for being 100 degrees outside, the grandstands were packed. I can't thank the fans enough for sticking around in this heat."