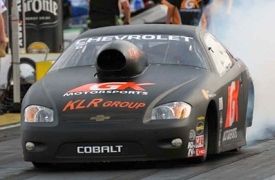 KLR Group's Erica Enders optimistic despite early loss in Denver
(7-22-2012)
MORRISON, CO – A first-round loss stings any NHRA competitor, but KLR Group driver Erica Enders takes solace that the next Pro Stock race is less than a week away.
Enders fell to Larry Morgan in the first round of the Mopar Mile-High NHRA Nationals at Bandimere Speedway on Sunday, but she'll be able to quickly put it behind her because the NHRA Sonoma Nationals begin in five days.
"It's disappointing, but we get to do it again in five days," Enders said. "We'll be all right."
Enders, the No. 6 qualifier, made a pass of 6.975 seconds at 196.10 mph, but came up short to Morgan's run of 7.005 at 196.39 seconds.
Denver is a tough track for all NHRA competitors, but perhaps it's tougher on Pro Stock teams because the altitude robs air and horsepower from engines. Teams have to make drastic changes to the tune-up to make the cars get down the track. Enders' team did a solid job, making her Chevrolet as consistent as possible.
"I love the Bandimeres, and this is a great facility," Enders said. "It's just unfortunate that we have bad luck up here. Our car was consistent, and hopefully we'll take that back down to sea level when we go to Sonoma next week."
Enders remained sixth in the Pro Stock points standings, and her GK Motorsports team will look to regain momentum from her victory two races ago. Enders became the first woman to win an NHRA
Pro Stock race in Chicago on July 1, but the victory also signaled her presence as legitimate championship threat.
The Countdown to the Championship begins Sept. 14 at zMax Dragway in Charlotte, and Enders hopes her and her team will be in good position to challenge for the 2012 Pro Stock title.
"We've got four races left before the Countdown," Enders said. "We didn't lose any positions in the points, so we're OK."