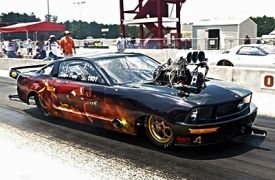 Quick 8 Outlaws head to Orangeburg Dragstrip July 28th
(7-23-2012)
NEESES, SC Ė The Quick 8 Outlaws head out to Orangeburg Dragstrip in Neeses, SC for another event of TRUE OUTLAW PROMOD RACING.
Only 5 rules are in place:
1.
IHRA safety rules will be used as a guideline. Example, engine diaper, full face helmet, neck collar, jacket, pants and gloves to meet SFI specs.
2.
Only full body cars and trucks with working doors.
3.
No screw blowers, nitromethane or multiple power adders.
4.
Any transmission.
5.
It will be an eight-car field with the pro ladder. If you break in the burnout box, it will then be a bye run. If the racer canít make the call for the first round of eliminations, the first alternate will then be in the field.
No membership fees and Open to ALL Pro Mods.
Robbie Mathews in the Kauffman Team Punisher blown '57 Chevy leads in the points and is trying to make it 3 years in a row Quick 8 Outlaws Champion. Ric Fleck only 5 points back is looking for the top spot with Greg Godwin and Troy Jordan tied for 3rd.
Along with the Pro Mods are bracket racing action for Top ET, Modified, Motorcycle and Jr. Dragster.
Gates open at 10am with first rd at 2:00,Second rd 3:30 and third at 5:00.
Entry for Pro Mod and driver is FREE! Check out
www.q8outlaws.com
for more info.
Do you have what it takes to be a Outlaw? Dont sing it, Bring it!
Orangeburg Dragstrip July 28th, TRUE OUTLAW PROMOD RACING!