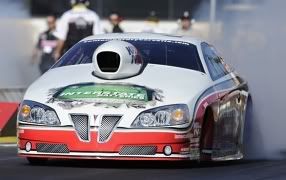 Edwards hopes to find winning way again
(7-26-2012)
COWETA, OK – After missing the final at the last three stops on the Full Throttle NHRA tour, Mike Edwards and his Penhall/K&N/Interstate Batteries team want to get back to winning events.
"The last two races have not been to kind to us," Edwards said. "We ran solid in Chicago, but didn't make the final, we were a little off in Norwalk and it bit us come eliminations. Then in Denver, we were close to where we needed to be in qualifying, but fell flat in eliminations and lost in the second round."
In Sonoma, Edwards' strategy is to find the form that has carried him to two victories in 2012 and start building momentum as they head into the NHRA playoffs that starts after the Mac Tools U.S. Nationals, only four events away. Edwards can clinch his position in the Countdown To A Championship, if he reaches the second round. He could mathematically clinch it earlier in the event, depending how many qualifying bonus points he earns and where he qualifies in the 16-car field.
"When we started the season, we set some goals we wanted to achieve," Edwards said. "The first was earning a spot in the Countdown, which we hope will happen this weekend. That will allow us a chance to work on making the car better without the pressure of needing the points to stay in the playoffs. Hopefully we can achieve the other things we have set out, which in the end include a second championship."
The twist, on the Western Swing, the Sonoma stop has been the one race during the three weeks where Edwards has never really shined. He has won titles in Seattle and Denver, but when it comes to the California stop, nothing has worked the same.
"We have made a couple finals, and should have been in a couple others, and maybe even won the event, but we have never had that comfort with this track like we do at the other two facilities on the Western Swing," Edwards admitted. "We are taking a little different approach this time and we hope at the end, the results will be in our favor and I can add a Sonoma trophy to the mantle."
Edwards enters the second of the three-race Western Swing in fourth place in points, and can clinch his spot in the NHRA Countdown to a Championship this weekend in Sonoma.