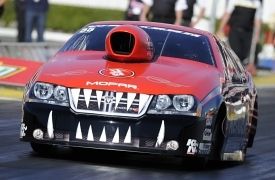 Gaines eyes Countdown spot
(8-2-2012)
KENT, WA – V. Gaines and his Colorado-based Kendall Motor Oil NHRA Pro Stock Dodge are making the third stop on the NHRA's Western Swing.
Three races in three weeks takes a toll on equipment, crew members, and drivers. The Kendall Motor Oil team had one simple goal for the 2012 swing and that was to crack into the top ten in the NHRA Full Throttle Points. After the second stop on the Western Swing in Sonoma CA. last week the team is tied for 11th and just one point out of the top ten. The goal for the Kendall Motor Oil team is simple, qualify well and take the race one round at a time.
"We never seemed to get the Kendall Oil car set right last weekend," driver Gaines tells us. 'Don't get me wrong we loved qualifying number 7 and we were excited about racing on Sunday, we just feel we left a lot on the table."
"We want to be a player in the Countdown to the Championship," crew member Gary Cummins tells us over the phone. "Kendall Motor Oil has been with our team for 9 years and we would love to give them a Pro Stock Championship."