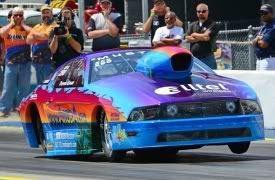 Hometown tour ends with a bang, literally, for Team Aruba
(8-7-2012)
UNION, SC – The ADRL Extreme Pro Stock team from Aruba had quite the busy week. Leading up to their hometown race at zMAX Dragway, the team completed a successful test session and Alltel displays in two towns all before the race even began.
Once underway under the beating NC sun, the ninth annual Dragstock event turned up the heat to repeat as a fan favorite on the tour. For the Alltel Wireless/Aruba.com team, the heat was the least of their concerns throughout the weekend as they continuously tried new combinations and various setups to gain the edge on the competition. Although the team endured tire shake on the Friday night qualifying session when conditions were best, they still made the field at number 15 with a 4.154. The entire 16 car field was separated by less than six hundredths, so on race day it was anybody's game.
Round one of XPS was marred by tire shake for nearly every car that went down. Trevor Eman and Team Aruba were one of the teams hit by the tough conditions, but still managed to come out on top. Eman drove through the tire shake to get to the finish line first, beating out competitor Doug Kirk. Unfortunately, the win came at a cost as their Kaase Engine took a fatal blow. The team rallied, and with the help of Jon Kaase himself, as well as fellow competitors, Team Aruba managed to swap engines before round two. After the mad dash to be prepared for round two action, the team had a tough competitor in Brian Gahm. Eman and Gahm left together, but Gahm pulled away for the win.
"I am very proud of our team," told Eman. "We worked incredibly hard all week, and when we finally thought things would slow down we had our most exhausting battle yet. Even though it ended in a loss, I'm proud of our team for working together to change the motor in between rounds and make it back out to compete in round two. That was the first time we had ever had to change engines between rounds and the team did an excellent job. We really appreciate the help of Jon Kaase and the Pluchino team, who helped us out and let us use their engine hoist, as well as the other teams who offered assistance. The sportsmanship among XPS teams is truly incredible. The competition is awesome, but the camaraderie is even better.
"It was really a hectic week from the beginning," continued Eman. "From our test session and our displays for a great sponsor of ours, Alltel Wireless, to our set up and work at the track, it was all nonstop. Friday morning we made some radical changes which took all the time we had before the first round of qualifying. The day ended with somewhat of a disappointment as we were not able to be a good pass down the track for the night session, which is usually the make it or break it run. Thankfully, we managed to stay in the field. Saturday, we made more changes before the final qualifying session. After that we thought things might actually slow down when eliminations began, but that wasn't the case as changing out motor was more hectic than I could have ever imagined.
"Despite all the back breaking work this weekend and the unfortunate incident of blowing our motor, it was still a weekend of great experiences: we got to race at one of the world's premiere drag racing facilities; we had a weeklong tour of happenings; we were racing at 'home'; we had plenty of friends and fans from Union, SC and, above all, we had the Prime Minister from Aruba with us together with the Minister Mike de Meza, Minister of Finance, Communication, Utilities and Energy, to partake in this past weekend's activities. It was their first time being a part of a race together with Team Aruba and it was wonderful to have them with us."
"I have enjoyed my first drag race in the states," told Prime Minister Mike Eman of Aruba. "I'm very impressed with Team Aruba's organization and their team spirit. You see a lot of competitors here, but really you see a lot of friendship. The camaraderie is very reminiscent of life in Aruba. I'm very proud of this team's accomplishments. They race in great competition and promote our island at the same time. What they've accomplished is very inspiring. I know they will continue doing well. They may win some and lose some, but the sportsmanship displayed here is the best outcome of all."
"All in all it turned out to be a week of mixed emotions with a balancing act of great and terrible experiences all in the same weekend," added Trevor. "From here we continue focusing on the positive and work all the harder to achieve our goals- promoting our wonderful island of Aruba and working hard for that win!"
Keep up with Team Aruba at
www.facebook.com/teamarubaracing
and on Twitter @TeamArubaRacing. Find race results, team updates, videos and photos. Also leave your comments to cheer on Team Aruba!
For more on your Aruba vacation visit
www.Aruba.com
and
www.Destination-Magazines.com
.
Visit
www.AlltelWireless.com
for their gold medal deals.