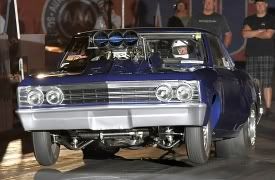 Records set at WCHRA's Shootout at Sundown
(8-7-2012)
BAKERSFIELD, CA – The West Coast Hot Rod Association (WCHRA) returned to AAA Auto Club Famoso Raceway in Bakersfield, Calif., on July 28th for event 3 of the Kings Oil Tools WCHRA 2012 season Presented by MagnaFuel and the 2nd of Three single-day events held in conjunction with the AAA Auto Club Famoso Raceway and their "Saturday Night Nitro" Nostalgia Nitro Series presented by Budweiser.
The July 28th event would be a record breaking affair for all involved, on and off the track! We saw our largest spectator attendance of 3100+,largest field of Nostalgia Nitro Cars and a new WCHRA 1/8th mile 275 Drag Radial record of 4.76 @ 160 mph laid down by Ryan Jones in his small block turbocharged '64 Chevy II!
With full field of Nostalgia Nitro Funny Cars along with exhibition Front Engined Top Fuek, Fuel Altered, Jet Cars, Index (Gassers), Brackets and wild heads-up small tire doorslammers, the fans were treated to a full day and night of exciting Drag Racing!
TRUE 10.5
Mickey Thompson Tires and Speedwire sponsor the quickest and fastest of the "Small Tire" Heads-Up classes in the WCHRA, once again, two of the quickest cars in the WCHRA battled for the Brandt Racing Ent. #1 Qualifier Bonus in the heat of the day and 145+ track Temps, after two rounds of qualifying Rich Hoyle's nitrous SBC '63 Nova was at the top with a 4.936 ,followed by Roger Rydell's big block supercharged '67 Chevelle, Roger Holder's 2002 TTBBC Camaro and Johnny Colemans ProCharged '69 Camaro.
Eliminations:
Roger Rydell's .055 5.04 @ 156 would advance him to the Finals over Roger Holder's .064 5.44 @ 164 and Rich Hoyle's .135 4.70 @ 153 over Johnny Coleman, Colemans car has an electrical gremlin and shut off after launch.
In the final round it would be #1 & 2 qualifiers to battle it out, Hoyle vs Rydell, at the flash of the ambers the Chevelle moved first,but too soon, Roger's -.006 Redlght would hand the Win to Hoyle .097 4.708 at 150.93 mph over Rydell's coasting 8.333 @ 43 mph,this Win extends Hoyle's points lead over Rydell.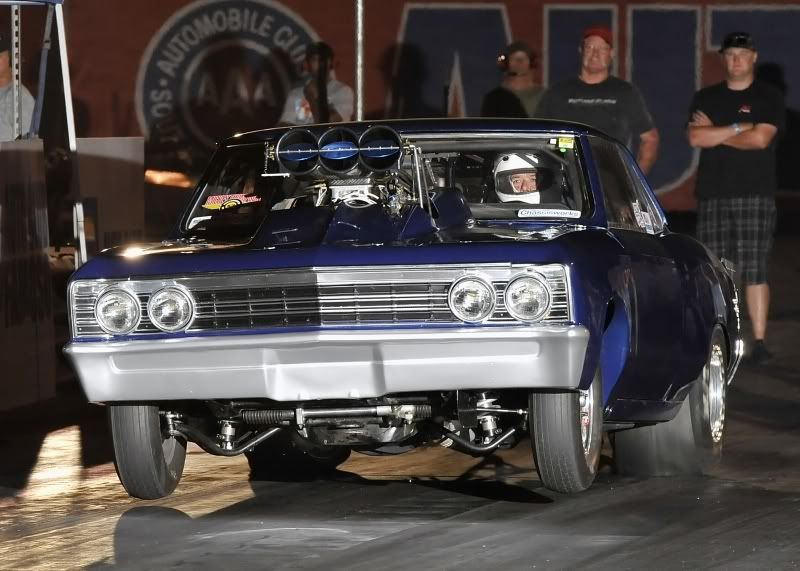 Roger Rydell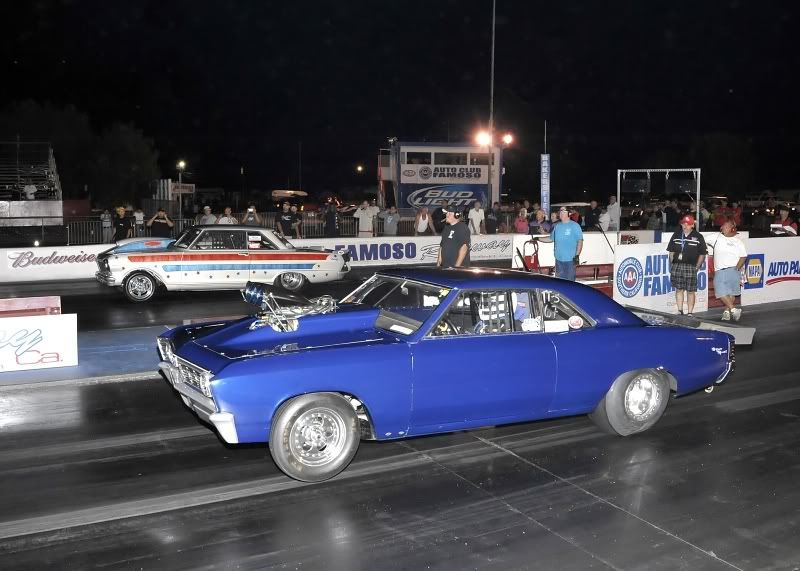 Roger Rydell vs. Rich Hoyle
X275
In qualifying for the MagnaFuel/Heads-Up Motorsports/VORTECH Superchargers class,it was a close battle for the top spot ,D.J. Reid would take the Brandt Racing Ent. #1 Qualifier Bonus with a nice 4.951 in his ProCharged SBC powered '68 Camaro followed close by Jeff Kyle's Precision Turbo powered 2000 Mustang, Ryan Jones TTSBC 64 Chevy II, Kelly Henry's Vortech Supercharged BBC Fox Body,Russ Delia TTSBC 68 Camaro,Artis Houston's N2O BBC '71 Nova and Mike Orban's nitrous BBC '68 Camaro.
Eliminations:
ROUND 1: First pair on the ladder were Mike Orban and Jeff Kyle, Orban got away first, .051 to .129, but Kyle's 5.077 @ 153.54 was too much for Mike's 5.49 @ 138 mph taking the win. Kelly Henry and Russ Delia would face off next,Kelly would take the Win 5.190 @ 142 over Delia's 10.71 @ 61 mph… The next pair would be Ryan "Toaster" Jones vs Artis "2X" Houston,Toaster took the advantage at the light .029 to a .072 for Artis and ran a potential record 4.819 @ 159.72 over Houston's 5.256 @ 135 to advance. D.J. Reid would earn the single run with his #1 Qualifier position,he wouldn't waste the single pass and ran his best run at this point 4.933 @ 150.98 to advance.
SEMIS: The 1st pair out would prove to be the quickest and fastest runs of the weekend in the class,Toaster and Jeff Kyle , Toaster would get the holeshot win .098, 4.768 @ 160.67 over Kyles .152, 4.882 at 158.32!! this would give Ryan Jones the 1% back up needed and both ends of the WCHRA 275 Record!. The other Semi pair would be DJ vs Kelly Henry , DJ would take the advantage at the Tree .064 to .185 and never look back advancing to the Final 4.943 @ 152 to Henry's coasting 5.287 @ 128.
FINALS: Toaster vs DJ ,Turbo vs Supercharger ,this would prove to be the closest race of the event in X275…Toaster took the .002 advantage at the tree .068 to .070 , both side by side all the way down and at the stripe it was Toaster taking the Win 4.778 @ 160.46 over DJ's "Personal Best" 4.883 @ 151 mph. With the absence of points leader Kevin Young,the Championship point standings are closer than ever going into the Finals Sept 8th!
D.J. Reid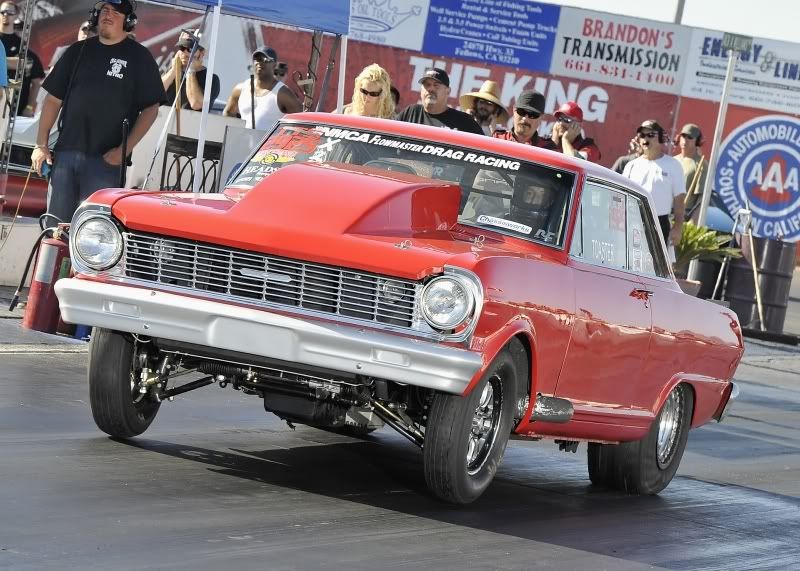 Ryan Jones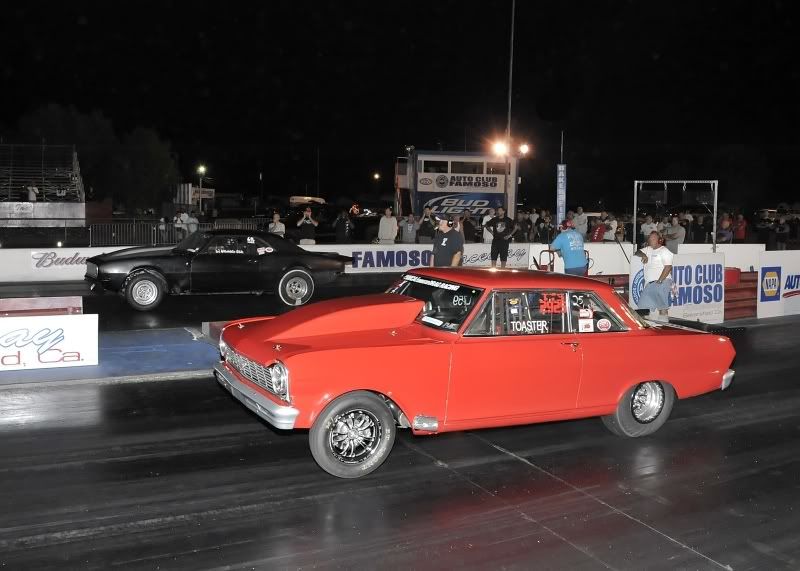 D.J. Reid vs. Ryan Jones
OUTLAW 8.5
The SCE Gaskets/Chris Alston's Chassisworks sponsored class once again drew big car count with 18 entries, even though we lost 2 entries after the broke during Friday Night testing,we still had our 2nd best car count ever! There was some close racing in qualifying with two-time 8.5 Champion Mark Washington, Eric Gustafson and 2012 LT5 Champ Gary Brandt battling..again it was Brandt taking the Brandt Racing Ent. #1 Qualifier Bonus with a 5.469 followed Mark Washington, Eric Gustafson, Mike Saiki, Chris Lange, Richard Hatch, Dan Hale, Ron Shaw, Jason Ayers, Josh Gomez(Team LPC), Gordon Saiki, Kevin Keller, Jim DiMaggio, Adam Noyes, Cameron Hensley, Matt Sendejas, Tom Daugherty and Damon Rivetti.
Eliminations:
ROUND 1: Gary Brandt would advance to rd 2 with a nice 5.42 @ 132 mph when Damon couldn't make the call due to a hurt throwout bearing..Next would be Gustafson over Sendejas, 5.49 to 6.48. Hatch over DiMaggio 5.62 to 5.81….Ron Shaw over Gordon Saiki 6.45 to 6.59…Lange over Noyes's 5.70 to 5.94, Keller over Hale 5.54 to 6.06…Mark Washington over Daugherty 5.41 to 5.52, Ayers over Gomez 5.63 to 5.80 and Hensley holeshot win over M. Saiki 6.13 to 5.49.
ROUND 2: Hatch Holeshot 5.70 over Chris Lange's 5.69, Keller over Hensley 6.00 to 6.78, Washington over Ayers 5.78 to 6.06, Gustafson advanced with a single 5.52 when Shaw had trans issues and Brandt advanced with a laddered single 5.48.
ROUND 3: Gustafson over Keller 5.42 to 5.69, Brandt over Hatch 5.40 to 5.68 and Washington with a 5.56 laddered single.
SEMIS: Eric Gustafson would get the laddered single into the Final running 5.416 @ 133.67 and Gary Brandt would advance on a holeshot over Mark Washington 5.424 @ 131.56 to 5.411 @ 134.64.
FINALS: In the finals it would be Gustafsons ProCharged LS-1 '69 Camaro vs Gary's SBF nitrous Fox Body with both cars within .008 the previous round!..When the tree flashed it was Brandt away first .059 to .088 and he held that lead until just before the finish line stripe when Eric would just get around him for the Win!! 5.372 @ 135.16 over Brandt's 5.426 @ 131.81…Brandt would take the Championship points lead with his Final round appearance!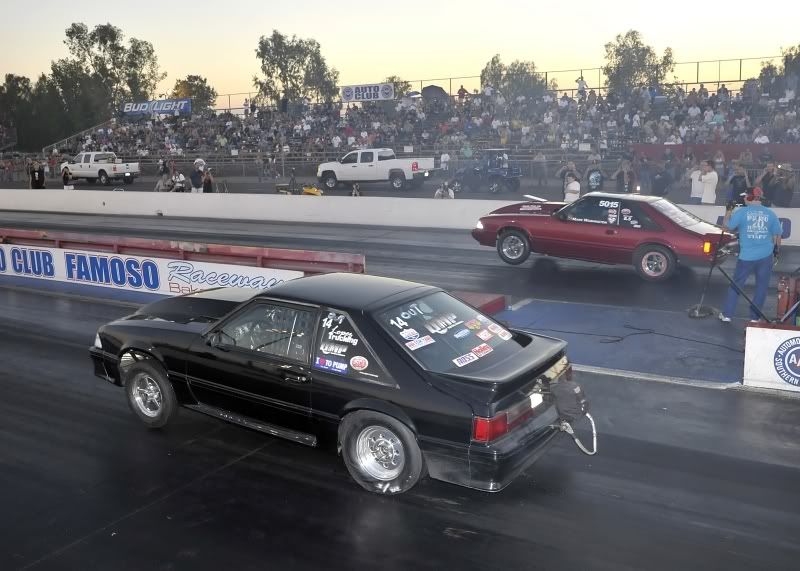 Tom Daugherty vs. Mark Washington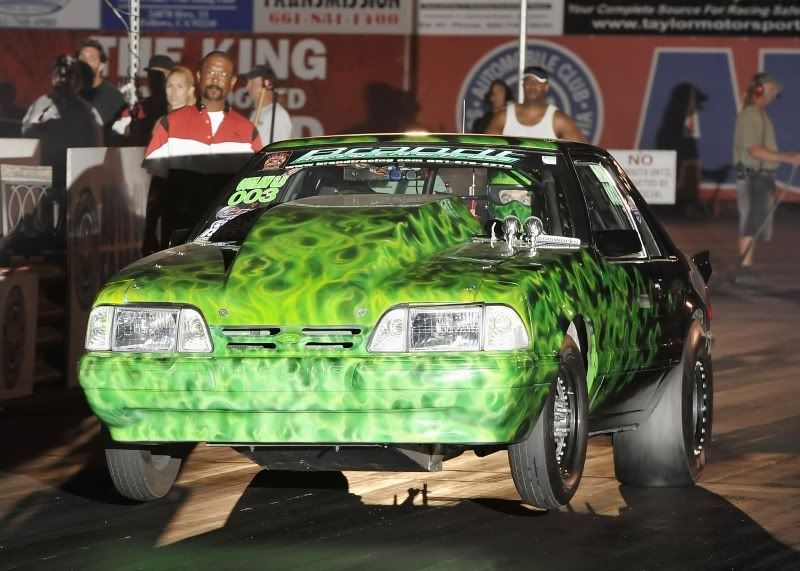 Gary Brandt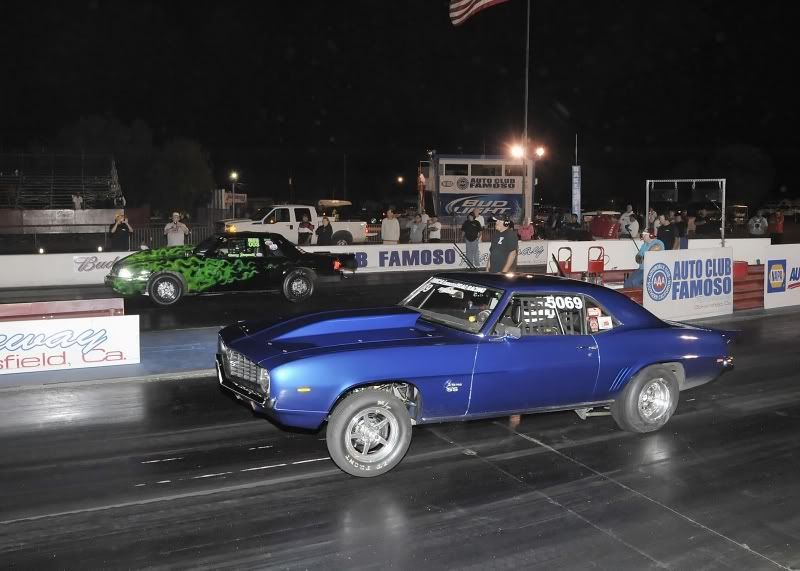 Eric Gustafson vs. Gary Brandt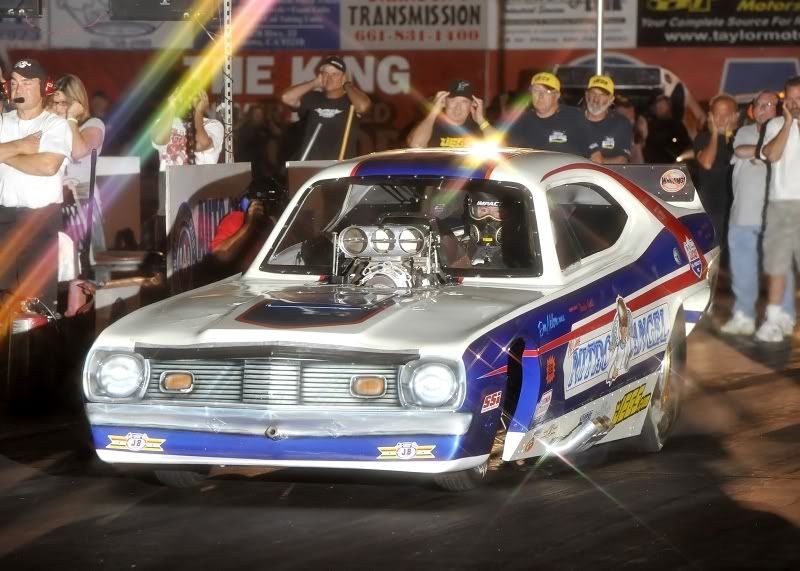 Join us for the WCHRA "WEST COAST" Finals on SEPT 8th at the final SATURDAY NIGHT "NITRO" Event for 2012 at AAA Auto Club Famoso Raceway!
Story by Tim Rigby

Photos by Paul Schmitz