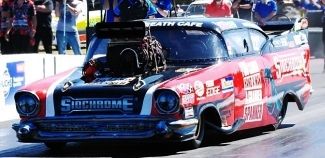 Records tumble at Benaraby Slamfest
(8-12-2012)
GLADSTONE, QLD – Local pre-event press had suggested that this would be the best ever event for the Benaraby Raceway and the 32 year old track lived up to expectations. With spectator cars lined up for almost half a kilometre to get into the venue, event organisers called for the Doorslammer to delay the start of qualifying.
When qualifying wrapped up at 2pm the national MPH record fell into the hands of Peter Kapiris @194.81. Attendance figures were the next to be rewritten with final figure expected to be in excess of five thousand.
In the semi-final Victor Bray became the second driver in Australia to record a 3 sec 8th mile pass with a 3.988 @1 90.68 to defeat Ben Bray 4.200 @ 185.19. With John Zappia's record of 3.983 in his sight Victor (aka the King of Top Doorslammer) went after it in the final. Victor crossed the finish line in the final to record 3.981 @1 89.08 taking the win and also the national ET record.
The Benaraby Raceway can now state that it has recorded the quickest and fastest 8th mile Doorslammer passes in Australia.
Victor Bray:
"Me with an ET and my old mate Peter Kapiris with the MPH record. Go back a few years it was the other way around. It is no secret that Ben and I have been working on a new combination for some time now and with every pass we are getting better. It is a great result for the team and it gives us a lot of confidence that we are on the right track.
It has been a great event and the Benaraby club have done a great job. With the track upgrades it has certainly come a long way from when I used to race here in the 80's and now I cannot wait to get back here again."
Ben said:
"The cards certainly were against me today. In my first round, Russell Mackay had a mechanical failure in the burn out and this gave me a ticket to the semi-final. It meant I was given no time and consequently paired up against Dad in the semi as he had run the quickest in round 1. As for my semi-final if you are going to lose to anybody, I guess if it is your father, the eventual winner and National record holder it is not so bad.
I would like to thank all the members of the Benaraby club who gave us a great track and venue today."
Sidchrome Team Bray racing leave Benaraby with its name firmly in the history book again. The next event for Team Bray will be the Brisbane Jamboree 22nd and 23rd of September.