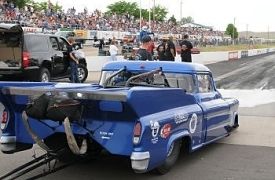 Krabill, Sorokin and Myers score pro wins at Pepsi Nightfire Nationals
(8-13-2012)
EAGLE, ID – Kris Krabill scored for the third time at the Pepsi Nightfire Nationals, winning AA/Funny Car over defending Heritage Series World Champion Jason Rupert. Krabill drove his Bucky Austin-owned '78 Arrow to a string of 5.9-second passes, including a 5.941 in the final, which was enough to cover Rupert's 6.00.
In AA/Fuel Dragster, Adam Sorokin's crew pulled off a dramatic pit area thrash between the semi's and final round, rolling into the lanes at the last possible moment to ensure that there wouldn't be a single in the final. Thanks to the good sportsmanship of Rick Williamson who waited patiently for Sorokin, as well as fellow racer Jim Young who pitched in to help Sorokin's crew get the car ready, the Champion Speed Shop team ripped off a 5.83 in the final to edge Williamson's 5.94.
The Pro Modified final was less dramatic, as an inopportune oil leak derailed Marc Meadors dream weekend. Meadors could only sit and watch as Dan Myers soloed to the title in his '57 Cameo.
There were numerous stars in the sportsman ranks on Sunday. Starting with Canadian ace Darryn O'Connor who picked up wins in both Bracketeer and Top Fire, netting a cool $6,000 in one night.
Firebird regular Houston Head scored a clutch title in Pro, which propelled him to the weekend title, as well. And in Sled/Bike, second-generation ace Richie Pedraza scored an unprecedented third win on the weekend en route to a runaway overall title.
AA/Funny Car
Champion-Kris Krabill, Anaheim, Calif., .055, 5.94, 239.04.
Runner-up-Jason Rupert, Yorba Linda, Calif., 6.00, 235.23.
Semi-John Hale, Addison, Texas.
AA/Fuel Dragster
Champion-Adam Sorokin, La Crescenta, Calif., .077, 5.83, 233.10.
Runner-up-Rick Williamson, Stockton, Calif., .123, 5.94, 248.48.
Semi-Jim Murphy, Santa Rosa, Calif.
Pro Modified
Champion-Dan Myers, Ramona, Calif., .108, 7.04, 195.95.
Runner-up-Marc Meadors, Danville, Calif., Broke.
Semi-Craig Cawte, Cranbrook, BC; Andy Neyer, Phoenix, Ariz.
Bracketeer
Champion-Darryn O'Connor, Fort St. John, BC, .035, 7.45 (7.44 dial), 186.06.
Runner-up-Ryan Cook, Idaho Falls, .027, 7.89 (7.91 dial), 167.94.
Semi-Michael Zimmerman, Phoenix, Ariz.; Larry Spitali, Glendale, Ariz.
Quarter-Mark Kidd, Twin Falls; Dan Lafferty, Wendell; Ted Wiens III, Las Vegas; Garnet Rose, St. Albert, Alb.
Eighth-Jim Climer, Kimberly; Cody Hiatt, Boise; John Shaffer, Boise; Dennis Paz, Stockton, Calif.; Jason Thomas, Meridian; Earl Cunningham, Enumclaw, Wash.; Sean Shaffer, Paul; Darrell Toews, Dawson Creek, BC.
Pro
Champion-Houston Head, Fruitland, .086, 11.73 (11.74 dial), 113.35.
Runner-up-David Chun Jr., Vancouver, Wash., Foul.
Semi-Jeff LaSalle, Santa Rosa, Calif.
Quarter-Ken Frickey, Nampa; Randy Williamson, Boise.
Eighth-Glenn Watts, Boise; Dale Umberger, Grand Junction, Colo.; Marko Perivolaris, Petaluma, Calif.; John Cozzette, Whitewater, Colo.; Lisa Thomas, Meridian.
Heavy
Champion-Brent Borchers, Meridian, .022, 12.31 (12.31 dial), 99.40.
Runner-up-Ryan Schaefer, Tigard, Ore., .025, 11.63 (11.70 dial), 108.19.
Semi-Levi Burlile, Nampa.
Quarter-Travis Bowins, Meridian; Seth McLean, Nampa; Adam Wurtz, Caldwell.
Sled/Bike
Champion-Richie Pedraza, Boise, .024, 10.09 (10.00 dial), 124.49.
Runner-up-Jacob Wood, Meridian, .073, 9.15 (9.10 dial), 130.41.
Semi-Jim Lambert, Garden City.
Quarter-Zak Pedraza, Boise; Jay Mendes, Caldwell.
Top Fire
Champion-Darryn O'Connor, Fort St. John, BC, .011, 7.47 (7.44 dial), 175.57.
Runner-up-Moe Trujillo, Happy Valley, Ore., .030, 6.87 (6.86 dial), 196.67.
Semi-Jon Bradford, Tucson, Ariz.; Tom Franks, Boise.
Bracketeer Consolation
Champion-Terry Wilcox, Lake Tapps, Wash., .017, 7.79 (7.77 dial), 169.61.
Runner-up-Dan Shepherd, Newberg, Ore., .037, 8.08 (8.04 dial), 159.97.
Semi-Chris Jaggers, Middleton; Tom Avgerakis, Newberg, Ore.
Pro Consolation
Champion-Chris Hall, Brigham City, Utah, .006, 10.31 (10.29 dial), 122.68.
Runner-up-Ron Kissner, Grand Junction, Colo., .098, 9.89 (9.89 dial), 133.78.
Semi-Carl Youngstrom, Caldwell; David Deming, Nampa.
Bracketeer Allstar Dash
Champion-Jim Glenn, Camas, Wash., .007, 7.82 (7.80 dial), 166.79.
Runner-up-Brad Pattan, Boise, .043, 10.198 (10.21 dial), 129.44.
Final Points Standings
Bracketeer
1. Mark Kidd, 887
2. Dustin Hentges, 734
3. Paul Nero, 688
4. Andy Morris, 687
5. Dale Green, 686
Pro
1. Houston Head, 840
2. Jeff LaSalle, 785
3. Mark Kidd, 637
4. Steve Kelly, 636
5. Larry Hale, 584
Heavy
1. Ryan Schaefer, 889
2. Greg Kielman, 586
3. Brent Borchers, 537
4. Levi Burlile, 535
5. Brandon Umberger, 487
Sled/Bike
1. Richie Pedraza, 893
2. Jay Mendes, 637
3. Zak Pedraza, 536
4. Michael Watts, 488
5. Jacob Wood, 437
Best Appearing Car
Michael Zimmerman, Phoenix, Arizona, Bracketeer.
Best Appearing Crew
Will Martin, San Dimas, Calif., AA/Funny Car.
Best Engineered Car
Tim Wallace Jr., Meridian, Bracketeer.
Long Distance
Jim Young, Salem, Wisc., 1740 miles, AA/Fuel Dragster.
Quickest Dragster
Jon Bradford, Tucson, Ariz., 6.42.
Quickest Full Bodied Car
Darryn O'Connor, Fort St. John, BC, 7.40.
Quickest Roadster/Altered
Mark Sievers, Grand Junction, Colo., 7.15.
Quickest Sled/Bike
Jacob Wood, Meridian, 8.88.