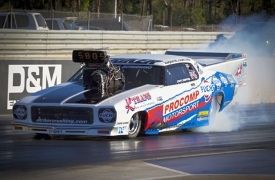 Bumper field set for Slamfest at Hidden Valley
(8-13-2012)
BERRIMAH, NT – The inaugural Hidden Valley round of the national Slamfest Series has already broken records and it's still over a week away.
10 Top Doorslammer teams have registered for the drag racing event, eclipsing the previous largest contingent seen in May 2011.
Hidden Valley Drag Racing Association, with support from the Territory Government, has been finalising touches for the big weekend.
"We are very pleased to be able to secure another national motorsport event for the Territory," said HVDRA President Jay Jukes.
"Drag racing is going from strength to strength in the NT and the calibre of the teams who have registered for this inaugural event shows the potential for Hidden Valley Drag Strip into the future."
Reigning ANDRA Top Doorslammer champion, John Zappia will headline the field but he is going to have his work cut out for him with veteran racers including Maurice Fabietti, Peter Kapiris and Gary Phillips also making the trip north to Hidden Valley.
Coupled with Daniel Gregorini, Frank Mamone and Russell Pavey the seven strong interstate contingents will also have to overcome the home track advantage that the local racers have.
Matt Abel, Peter Coles and Scott MacLean will be flying the flag for the Territory.
Both Abel and MacLean have been able to run five second passes so have the potential to cause an upset.
While the official track record still stands at 5.909 seconds set by Zappia in May 2011, MacLean boasts the fastest pass of 5.886 seconds at 243mph.
Slamfest gets underway at Hidden Valley Drag Strip from 7pm on Friday 17 August and will continue on Saturday 18 August.
Slamfest 2012
Friday 17 August - Qualifying including Top Doorslammers
Gates open 6pm
Action from 7pm
Saturday 18 August – Racing
Gates open 2:30pm
Qualifying 3:30pm-5pm
Corporate area open from 5pm
Action from 6pm
Adult Admission Friday 17 Aug - $20.00
Adult Admission Saturday 18 Aug - $35.00
Family Admission Friday 17 Aug - $40.00
Family Admission Saturday 18 Aug - $70.00
2 Day Admission - $50.00
2 Day Family Admission - $100.00
Children Under 13 FREE
Photo by Mark Hamilton - HighRPM
www.hiddenvalleydrags.com
www.slamfest.com.au