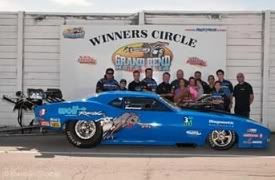 Sam Andreacchi wins PMRA race at Grand Bend's Stratford Spectacular
(8-17-2012)
GRAND BEND, ON – Driving the Wolf Racing and Andreacchi Motorsports Pro Modified, Sam Andreacchi and team captured their first win of the 2012 Pro Modified Racing Association season during the Stratford Spectacular Hot August Nationals presented by Ideal Supply & NAPA Auto Parts held at the Grand Bend Motorplex.
The win was the first for the team with their new 1969 Chevy Camaro Pro Modified after the car debuted earlier this year.
"It is good to be back," noted Andreacchi after his victory. "We're back on track. We've been taking baby steps with the new car, but we're now comfortable with it."
Andreacchi, of Toronto, Ontario, qualified the Al Billes Racing 526-cubic inch Brad Anderson (BAE) Supercharged Hemi-powered car to number seven spot on the ladder, and went through the field to meet up with and eliminate Derek Hawker of Corbyville, Ontario in the final round.
The win was Andreacchi's third in PMRA racing.
Sponsored by Paul Wolf Electric & Lighting Supply Inc., Sylvania, IED (Independent Electrical Distributors), Eaton, Nuteck Mechanical, 3M Signs, Diagnostic Automotive, Cooper lighting, Liteline, Thomas and Betts, Astro Automotive and Machine, and Al Billes Racing, Andreacchi wanted to thank all his sponsors for their support. He also thanked his crew for their efforts.
"I have to thank my crew chief, Vincent Andreacchi, and all the others on the team, Rick Defrancesco, Domenic Calabria, Dan Purcell and Ralph Andreacchi," said Andreacchi. "I also want to thank G-Force Race Cars for building a terrific race car."
Eric Latino of Whitby, Ontario qualified number one with a 5.973-second, 241.87-mph posting, which also set Low ET and Top Speed of the meet. Latino and his Camaro were taken out of contention in the first round by Hawker, who qualified eighth, and his Corvette.
Andreacchi eliminated number three qualifier Rob Atchison of London, Ontario in the first round, while number three qualifier Jeff Roth of New Dundee Ontario and his 1941 Willys Pro Modified took out the 1969 Daytona of Pete Farber of Baldwinville, Massachusetts.
Another Willys driver, Bruce Boland of Hamilton, Ontario, who qualified fifth, eliminated number four qualifier Jay Santos of Halton Hills, Ontario. Boland did not make a good pass in the semi-final, giving the round to Hawker, and Roth broke giving that semi-final win to Andreacchi.
In the final, Andreacchi cut an .044-second light and ran a 6.250-second, 226.58 pass over Hawker's 8.26, 103.89.
Both Farber and Atchison made the show as alternates, as number two qualifier Rocky Di Lecce of Mississauga, Ontario could not make the eliminations with this Camaro, nor could the 1970 Cuda of Jason Kalso of Clarkston, Michigan, who had qualified sixth.
Boland continues to lead the PMRA 2012 Championship Point Award Series presented by Global Emissions Systems, Inc. with 1532 points. Latino is second with an even 1500 points, followed by Hawker with 1481. Roth is fourth with 1475 points, and Di Lecce is in fifth with 1462 points.
The Pro Modified Racing Association,
www.PMRA.ca
competes with its two companion series, the Quick 32 Sportsman Series,
www.Quick32.ca
and the Pro Bike & Sled Series,
www.PBSS.ca
travel and compete together throughout the racing season, offering an exciting and diverse package of drag racing action.
Racing in all three series resumes at the Grand Bend Motorplex in Grand Bend, Ontario August 31 to September 2 at the "Thunder by the Beach" Weekend.
For information contact the Grand Bend Motorplex, call (519) 238-7223, visit
www.grandbendmotorplex.com
.
For more information contact Bruce F. Mehlenbacher at
Bruce@PMRA.ca
.
Photo by Brennan Shortall - www.DragRaceCanada.com