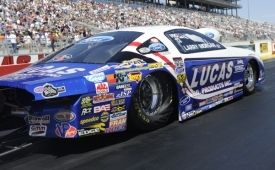 Holding onto playoff spot the only thing on Morgan's mind
(8-27-2012)
NEWARK, OH – Pro Stock veteran Larry Morgan is so close to making the Countdown to the Championship he can't help but get fired up by the possibilities. In fact, if the NHRA's six-race playoff were to start now, Morgan would be in the 10-person field of driver's eligible to win it all.
But the 58th annual Mac Tools U.S. Nationals presented by Auto-Plus at Lucas Oil Raceway has yet to be contested and with six drivers fighting for the final four slots separated by just 51 points in the current standings, Morgan knows anything can happen.
"Wow, it's close, isn't it?" Morgan said. "That's alright; I love it. We're fired up over here in the Lucas Oil pit.
"If we want to stay in, we better have our stuff together. We're going to Martin, Michigan, before Indy to test. We want to make sure everything is totally buttoned up. We cannot make a mistake or we know someone will be right there to steal our spot."
Morgan, who last made the playoffs in 2007, currently sits ninth in the rankings. He's only 14 points behind seventh-place Ron Krisher, but just 18 ahead of 11th-place Jeg Coughlin Jr. Each round in eliminations is worth 20 points, but Morgan is more focused on the small bonus points available in each of the five rounds of qualifying. The three quickest drivers in each qualifying session earn three (for first place), two (second) or one point (third).
"Those qualifying points look really big now," Morgan said. "If you can get on the friendly side of 20 points it could be the difference of a full round of racing on Monday.
"I think we've shown we have a car that can qualify and run pretty well. If we can figure out how to pick up the front end of each run we'd be world beaters.
"We have got to get in the Countdown, that's all there is to it. I believe we've earned it this year. No one is going to hand anything to us and I wouldn't want it any other way. We'll just have to go into this battle and see who comes out the other side with a smile on their face."
Qualifying begins with Round 1 at 5:30 p.m. Friday, and continues with two sessions at 2:30 and 6 p.m., Saturday. The final two rounds will take place at 11 a.m. and 2:30 p.m., Sunday. Sudden-death eliminations begin at noon, Monday.
ESPN2 will air qualifying action from 11 a.m.-2 p.m. and 5-7 p.m., Sunday. A six-hour raceday show runs from noon to 6 p.m., Monday.
Please visit
www.LucasOil.com
for more information.