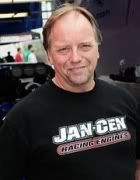 Mike Janis Racing heads to Indy for the 58th annual Mac Tools U.S. Nationals
(8-29-2012)
INDIANAPOLIS, IN Ė If youíre a drag racer there are a few places that are on the list of places you want to be in the winnerís circle, for racers in the NHRA Pro Mod series one of those places is Indianapolis. Mike Janis Racing will be pulling into Indy for the 58th annual Mac Tools Nationals presented by Auto Plus hot off the teamís big win from their ADRL victory in Charlotte a couple weeks ago. "This is a race that you can never over prepare for," said Mike Janis Sr. "There will be over 150,000 spectators walking through these gates from Wednesday-Monday, and we owe it to them to put on a good show."
Commonly referred to as "The Big Go", everyone dreams of being able to say they won this event. "Winning Indy would be equivalent to winning the Super Bowl," said Crew Chief Mike Janis Jr. "This place has so much history, and our Mike Janis Superchargers/Jan-Cen Racing Engines Mustang will be ready for the first qualifying run comes Friday afternoon. We have been working countless hours on a couple new projects for Indy, and I for one can tell you that there will be a lot of "minds" completely blown when we head down that 1/4 mile."
"We have had some rough spots and some high spots this season but the bottom line is that we want to win the big go" said Co-Crew Chief Chief Kevin Peters. "I have had our CNC machine running around the clock since we pulled back in from Charlotte a few weeks back on our new project, and I for one cannot wait to see what we can accomplish this weekend. Itís going to be very competitive, but we are ready to swing the bat hard."
Typically there is more attention given to this event than others on the NHRA tour. "There are so many different companies represented at the NHRA races, but this one for sure always takes the cake. The "whose who" of every big/small company and retailer will be here and it just adds to the excitement for all the teams and fans involved in the great sport of NHRA Drag Racing. We are excited to see all the great fans. Stop by, say hi and cheer us on," said Janis Sr.
Mike Janis Racing would like to thank:
-Jan-Cen Racing Engines
www.shopjancen.com
-Mike Janis Superchargers
www.facebook.com/mikejanisracing
-Flying Hammer Hot Rods
www.facebook.com/flyinghammerllc
-Dan Page Race Cars
www.danpageracecars.com
-LAT Racing Oils
www.latracingoils.com
-Total Seal Piston Rings
www.totalseal.com
-Mahle/Clevite Bearings
www.mahlemotorsports.com
-Probell Racing Products
www.probellracing.com
-NGK Spark Plugs
www.ngksparkplugs.com
-AJPE
www.alanjohnsonperformance.com
-Goodyear Racing Tires
www.goodyear.com
-Diamond Racing Pistons
www.diamondracing.net
-Speed Dawg Custom Shift Knobs
www.speeddawg.com
-BDR Torque Converters
www.bdrtorqueconverters.com
-B&J Racing Transmissions
www.bandjtransmission.com
-Firecore Spark Plug Wires
www.firecore50.com
-T&D Rockers
www.tdmach.com
-Motorsports Unlimited
www.motorsportsunlimited.net
-Penske Racing Shocks Midwest
www.penskeshocks.com
-Line 2 Line Coatings
www.line2linecoatings.com
-V P Racing Fuels
www.vpracingfuels.com