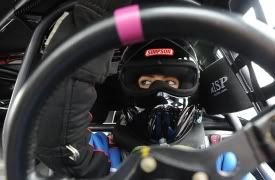 Pro Mod's Pruett praying for more rain in Indy
(9-2-2012)
INDIANAPOLIS, IN – For much of Sunday night and into Monday morning, Leah Pruett, driver of the ProCare Rx twin-turbo Ford Mustang in the NHRA Pro Mod Series presented by ProCare Rx, will be glued to the TV and her computer getting the most updated weather reports.
However, unlike most drivers at the 58th annual Mac Tools U.S. Nationals presented by Auto-Plus, Pruett isn't hoping for the day to break clear over Lucas Oil Raceway, she wants rain.
A lot of rain.
What's left of Hurricane Isaac limited the Pro Mods to just one round of qualifying this weekend. Unfortunately for Pruett, a turbo failure during her run has left her on the outside looking in with raceday tentatively scheduled for Monday, weather permitting.
"We were supposed to get four qualifying attempts this weekend," Pruett said. "We would have had plenty of time. No problem. It was a brand new turbo on the car and it must have broken during my burnout. Everything seemed fine until I launched. I left with only half the boost I was supposed to have and the turbo locked up. To keep from hurting anything else, I shut off at halftrack and coasted the rest of the way."
Pruett crossed the line in 8.726 seconds at 135.88 mph, which put her 18th on the grid.
"I'm super disappointed about it," she said. "It seems like mechanical problems of one form or another have hurt us all year. We've been a round behind the curve, and so far this race is on par with that.
"We made the fix and if we would have gotten another qualifying pass, I'm confident we would have easily made the field. This car is too good not to be in the show."
Her silver lining will be dark clouds and lots of showers on Monday because the NHRA has said that if Monday's scheduled eliminations are completely washed away, it will re-open qualifying on Saturday and run eliminations Sunday, giving Pruett and the ProCare Rx Mustang another shot at making the field.
"If we get another pass, that run will be pressure-packed," Pruett said. "It will have been more than a week since we've raced with completely different track conditions with one last shot to make the biggest race of the season.
"It might not make me popular with the other drivers but I'm hoping for rain and we'll roll with the thunder no matter what happens."
Pruett's teammate and car owner Roger Burgess made the field in the No. 15 spot with a best lap of 6.337 seconds at 230.14 mph in the ProCare Rx turbo Chevy Camaro. If the race goes off, he'll face No. 2 qualifier Donald Martin, whose lap was in 5.961 seconds at 243.85 mph.
Eliminations are scheduled to begin at 11 a.m. EDT on Monday at Lucas Oil Raceway.
Please visit
www.R2B2Racing.com
for more information.